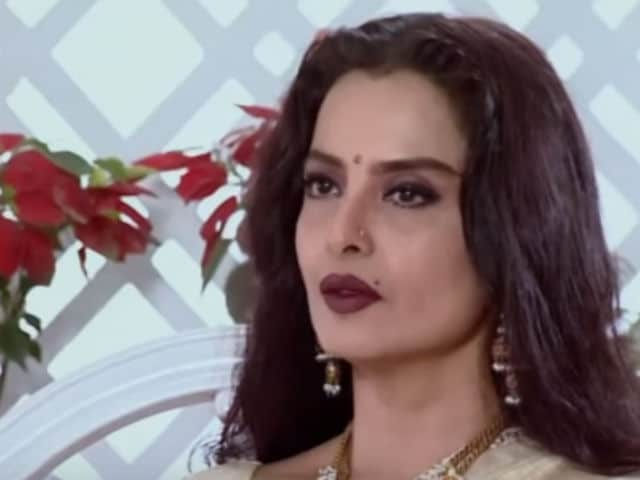 New Delhi:
A decade after she interviewed the famously reclusive Rekha on the 100th episode of her talk show, actress and TV host Simi Garewal has said that she had no trouble getting her subject to speak about actor Amitabh Bachchan. Rekha and Big B were co-stars in 10 films and were rumoured to have been an off-screen couple as well, despite Amitabh Bachchan being married to actress Jaya Bhaduri.
In June 2004, Ms Garewal got Rekha, known for being reticent, to speak about the rumoured relationship on her show
Rendezvous With Simi Garewal
. This was possible, she now says, because they were friends. "It was easy asking her the question about Amitabh. If I can ask Jayalalitha if she was ever loved MGR, asking Rekha about Amitabh was much easier. A lot of people ask me how I got her to open up. I didn't know if I did anything special. I don't want to analyse it. I just chatted as good friends. Rekha and I go back a long way," she told
Indian Express
.
She also explained why Big B and Rekha never appeared in film together after 1981's
Silsila
. "After all that controversy, I don't think it was an easy thing to happen. He is a married man with children and grand children. So much
hungama
happened that we couldn't expect that to happen again but I do agree they make a lovely pair onscreen," she told
Indian Express
.
Rekha, who has been named this year's recipient of the Yash Chopra Memorial Award, made a hit
Jodi
with Amitabh Bachchan in films like
Do Anjaane
,
Mr Natwarlal
,
Muqqaddar Ka Sikander
,
Imaan Dharam
and the iconic
Silsila
. For years, gossip and media reports insisted the romance had spilled off-screen, ending in the Yash Chopra-directed
Silsila
in which a celluloid love triangle between Rekha and the Bachchans appeared to mirror the rumoured one from real life.
In her 2004 interview with Simi Garewal, Rekha spoke about Amitabh Bachchan at length, admitting that she fell in love with him but insisting there was no affair.
"He was something I'd never seen before. I've never met anyone like him," Rekha said on
Rendezvous
, "How can so many good qualities be bestowed on one person? I'm not a fool, I'm intelligent or so I'd like to believe. When I see a good thing, I can recognize it."
Asked if she fell in love with Big B while making the 10 films they share, she said, "Absolutely. Duh, that's a dumb question. I have yet to come across a single man, woman, child who can help but fall completely, passionately, insanely, desperately, hopelessly in love with him. So why should I be singled out? What do I deny? I'm not in love with him? Of course I am.
Duniya bhar ka love aap le lijiyega
and add some more - I feel that for that person. Bottomline."
She also claimed that he had "no clue" how she felt and that much ado was made about nothing. The reported affair didn't happen. "You want to know the truth? This is headline, OK? There was never a personal connection with him, that's the truth. Never ever. There was no truth to the controversies and speculation" she told Simi Garewal.
Amitabh Bachchan had been married for some years to Jaya Bhaduri when he and Rekha signed their first film together, 1976's
Do Anjaane
. It didn't matter that he was taken. "The fact that he was a married man doesn't make any kind of a difference. A rose is a rose is a rose. A human being is interesting, period. I want to have the honour of being associated with this person so what is stopping me? I'm not here to 'break' his home so to speak. I'm here to be one of the lesser mortals who can just have a whiff of him and feel happy," Rekha, now 61, said on
Rendezvous
.
Nor was there a rift with Mrs Bachchan, whom she calls
Didibhai
(the Bengali word for elder sister), Rekha claimed then. "Not at all.
Didibhai
is much more mature, much more together. I've yet to come across a woman who is so together. She's got so much dignity, so much class. She's got a lot of strength. I admire that woman. We had an association before the so-called rumours and the media messed up the whole image. We were living in the same building and we had a relationship. She was my
Didibhai
, she still is - no matter what happens nobody can take that away. Thank God she realizes that too. Whenever we meet she's very sweet - she's not just civil, she's just herself," she said.
Since
Silsila
, Rekha and Amitabh Bachchan have met only at public award shows. "I see him lots at functions. He's a very sweet human being and his memory is very sharp. That one
Namaste
says it all," she said in the interview 10 years ago.(Also Read:
34 Years After Silsila, Amitabh Bachchan Shares Pics and Memories
)
Not much has changed in the decade that's past but, as Rekha told Simi Garewal, that's enough for her.
Watch: