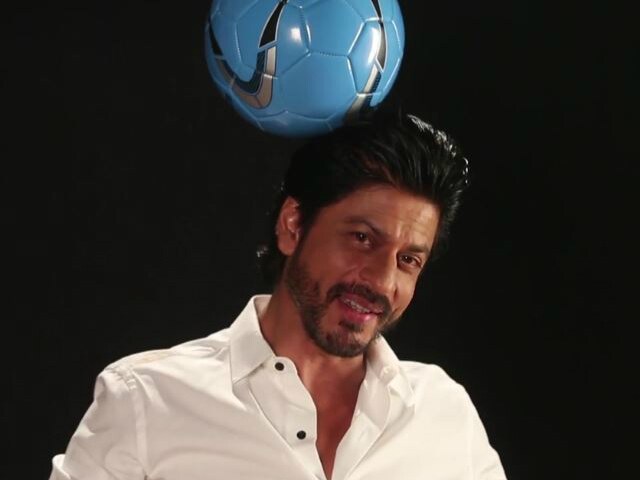 Highlights
Shah Rukh Khan will "do anything for his fans"
Shah Rukh performed tasks assigned by fans in short videos
SRK eats a cake without using his hands and balances a ball on his head
New Delhi:
When better than All Fool's Day to play the fool and do foolish things? Shah Rukh Khan, the fan-anointed Badshah of Bollywood, set aside his crown on April 1 to assume the role of court jester. As part of publicity for his new film
Fan
, SRK accepted a series of challenges set by his followers on Twitter.
Or did he? Did he really eat a cake without using his hands? Solve a Rubik's Cube in seconds flat? Do 300 push-ups in one go? And, umm, sneeze?
SRK might have promised to do "anything" for his fans but let nobody forget that it was April Fool's Day. Here's how Shah Rukh Khan won the day.
.@panku_ The balancing act is not so difficult for our man @iamsrk! Don't believe us? Watch. #FANSFOOLhttps://t.co/UJg2h4UpRy

— FAN (@FanTheFilm) April 1, 2016
.@DhinchakAurat Mimicking a co-actor is oh-so-simple for @iamsrk! Challenge accepted & completed. #FANSFOOLhttps://t.co/jhvD3pjLU9

— FAN (@FanTheFilm) April 1, 2016
Hey there @PhalinShah, @iamsrk just had the cake and ate it too! Mission accomplished, right? #FANSFOOLhttps://t.co/7UZzYdVEcp

— FAN (@FanTheFilm) April 1, 2016
You see @DramaticChori, @iamsrk can solve a Rubik's Cube just like magic! Watch his skills. #FANSFOOLhttps://t.co/g3CK4W5DPX

— FAN (@FanTheFilm) April 1, 2016
.@PhilmySenorita That's a tough challenge but @iamsrk will give it a shot! 300 push-ups coming your way. #FANSFOOLhttps://t.co/Fr65EnE5ea

— FAN (@FanTheFilm) April 1, 2016
That's a strange request @Shraygupta. But like we said, @iamsrk will do anything for his FANS! #FANSFOOLhttps://t.co/4c1ajbkpVs

— FAN (@FanTheFilm) April 1, 2016
The 50-year-old actor's new film
Fan
is directed by Maneesh Sharma, stars SRK in dual roles and releases on April 15. SRK's upcoming projects also include Rahul Dholakia's
Raees
and a movie with Gauri Shinde, co-starring Alia Bhatt. (Also Read:
No, Seriously. Incredible 'Flying' Shah Rukh Khan in Raees Pic
)