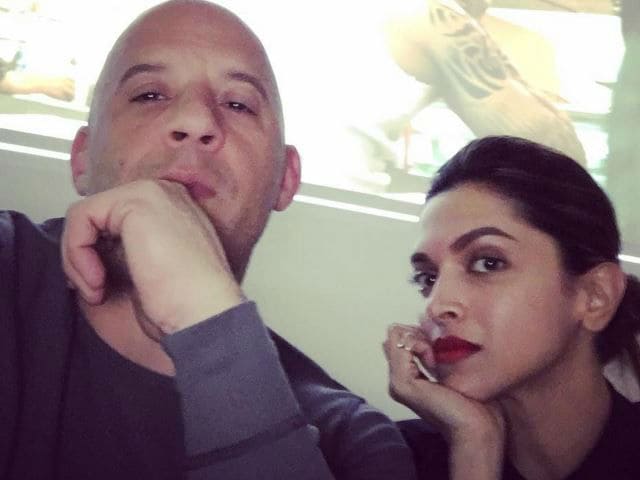 New Delhi:
Actress Deepika Padukone's picture with Hollywood star Vin Diesel has been the talk of the town ever since she tweeted it on December 4. Is she starring in the next
xXx
film? Deepika's not telling but some of her colleagues were so excited that they've recreated the moment with, umm, a version of Vin Diesel.
Actors Akshay Kumar, Abhishek Bachchan and Riteish Deshmukh, currently shooting for
Housefull 3
, posted a spoof of Deepika's photo on Twitter:
Since Vin Diesel is busy with @deepikapadukone, we at #Housefull3 are making do with Vin Petrol pic.twitter.com/AlPSPPv006

— Akshay Kumar (@akshaykumar) December 8, 2015
Soon after Akshay's post, 'Vin Petrol' started trending on Twitter. His co-star Riteish explained why their picture was more precious than Deepika's:
Petrol ka bhav Diesel se jyaada hai. https://t.co/V4QQcN6fFY

— Riteish Deshmukh (@Riteishd) December 8, 2015
This is Deepika's original tweet:
December 4, 2015
Deepika co-starred with Akshay and Riteish in
Housefull 2
, and with Abhishek in
Khelein Hum Jee Jaan Sey
.
When asked by NDTV, the actress refused to either confirm or deny that she had been cast opposite Vin Diesel. "What do I say, as far as the film is concerned only time will tell," Deepika said. (Also Read:
We Asked Deepika Padukone About The Pic With Vin Diesel. She Said...
)
Of Vin Diesel, Deepika said: "He's a friend and someone I'm extremely fond of. More than anything else he is an amazing person. But about everything else, which everyone wants to know, you'll know soon," she added.
Deepika's golden spell at the box office has continued in 2015. Her first hit of the year was Shoojit Sircar's
Piku
, with Amitabh Bachchan and Irrfan Khan. Her latest film
Tamasha
, co-starring Ranbir Kapoor, has also fared decently. She also has
Bajirao Mastani
, directed by Sanjay Leela Bhansali and co-starring Ranveer Singh and Priyanka Chopra, coming up later this month.