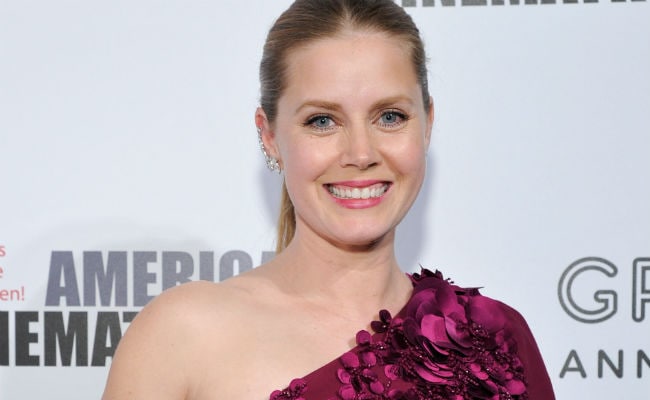 Highlights
Amy Adams shared the proudest moment of her career so far
She has earned four Oscar nominations in best actress category
She won Golden Globes for American Hustle and Big Eyes
United States:
Scandal-hit Hollywood left its woes behind Friday to honor
Amy Adams
for a glittering career that has seen her go from waitress to five-time Oscar nominee.
The 43-year-old -- famous for the diversity of her film roles -- told AFP ahead of being presented with the 31st American Cinematheque Award that her proudest moment was her first nod for 2005 comedy
Junebug
.
"It really depends where I am in my life, but right now I'm looking for films with a specific message," she said on the red carpet in Beverly Hills as she weighed her 18-year career.
"It can be very subtle, but I want it to mean something to me and move me forward in my life."
A host of A-listers paid tribute to Adams in a rare celebration at the end of a week which has seen the industry tarnished by unprecedented allegations of sexual misconduct.
"I'm always happy when I show up at work and she's there," Michael Shannon, who starred alongside Adams in 2016 neo-noir thriller
Nocturnal Animals
, as well as two
Superman
movies, told AFP.
"
I've never seen her be anything but hard-working
and easy to be around."
Adams's four other Oscar nominations were for best actress in
American Hustle
and supporting-actress roles for
Doubt, The Fighter
and
The Master
-- but she has never won the coveted statuette.
"I think Amy and I have the same attitude about it. We just feel fortunate that we're a part of this business to begin with," two-time Oscar nominee Shannon told AFP.
Adams's award was a welcome moment of levity in a difficult week of soul-searching in Hollywood, which has seen the Harvey Weinstein sexual misconduct scandal expand to envelope Oscar-winner Kevin Spacey and comic actor Louis C.K.
'Striking'
"It's sad that people have been hurt and I'm glad that something is being done about it," said Shannon, 43.
Adams's movie credits have included awards season favorites such as
Arrival
and box-office smashes such as
Enchanted
and
Man of Steel
.
She won Golden Globes for her work in
American Hustle
and
Big Eyes
.
Adams was presented with the American Cinematheque Award for "making a significant contribution to the art of the motion picture" by
Doubt
co-star Meryl Streep.
Among those expected to attend the star-studded event at the plush Beverly Hilton were Tom Hanks, Jake Gyllenhaal, Chris Messina, Kristen Stewart and Natalie Portman.
Adams was raised in a Mormon family in Colorado -- one of seven children, all of whom, she says, liked to act.
She did not tread the boards in high school, but took a job at a theater where she worked as a waitress.
It was not until she moved to Minnesota that a producer saw her in the chorus line of
Anything Goes
.
Her first film role was as Leslie in
Drop Dead Gorgeous
(1999), which tells the story of girls in a Minnesota town competing in a beauty pageant.
Her co-star in the film, Kirstie Alley, recognized her star power and urged her to move to Los Angeles.
Villeneuve, who directed Adams in
Arrival
, told AFP he was captivated by her performance in
The Master
, Paul Thomas Anderson's acclaimed 2012 psychological drama.
"I thought what she did in this movie is unique in her filmography. It was quite striking," he said.
(This story has not been edited by NDTV staff and is auto-generated from a syndicated feed.)