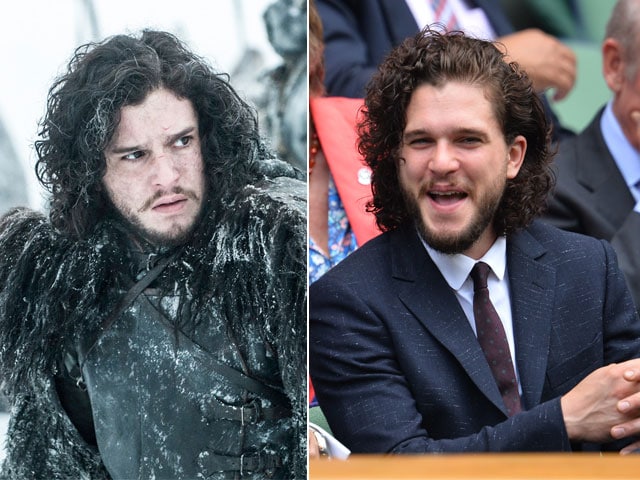 New Delhi:
His watch may not have ended just yet.
Game of Thrones
fans, who are secretly harbouring hopes that Jon Snow's character will somehow be revived, can take heart from latest pictures of Kit Harington at Wimbledon with his signature long hair and beard intact, nearly a month after the season five finale.
The 28-year-old looked dapper in a navy suit as he sat in the royal box on Day 4 of the tennis championship during the women's singles' match on July 2.
In an interview to
New York Daily News
, the actor had earlier said that he was contractually obligated to not cut his hair while he appeared on the series. Infact, it was his appearance at the premiere of his film
Testament of Youth
with a shorter hairdo in January that had sparked rumours of his tragic end in season five. But now, with the show's young 'Lord Commander of the Night's Watch', once again sporting long hair,
Game of Thrones
fans have got their hopes up once more.
In an interview to
MTV News
, Emilia Clarke, who plays Daenerys Targaryen, disclosed there was a chance that John Snow could return.
"I'd say there's a 50/50 chance. I mean, there's some helpful people there who could bring him back to life," Emilia said while teasing the theory that the priestess Melisandre could be instrumental in bringing Jon Snow back to life."
In the book series, Jon Snow dies in the fifth instalment but since author George R R Martin is still writing the books, fans of the show have fingers crossed for a revival.
Kit Harington has become a walking spoiler.

— Jon Snow (@LordSnow) July 3, 2015
Kit Harington at Wimbledon today, still with his luscious locks #itsasign#GoTpic.twitter.com/jSJuN4yj6O

h; Rachel West (@RachWest) July 2, 2015
Game of Thrones
season 6 is expected to premiere in April 2016.