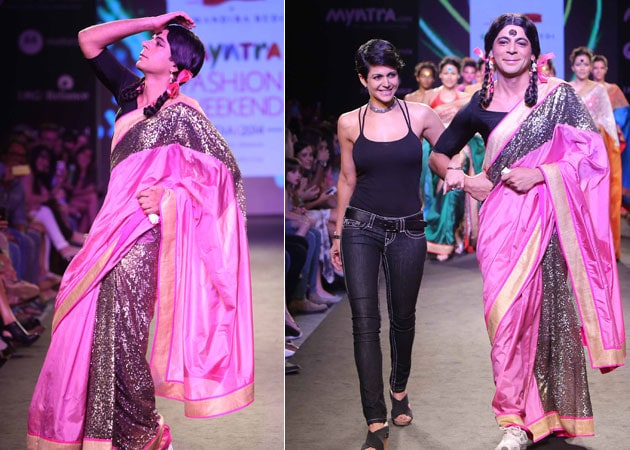 Mumbai:
Actress-turned-designer Mandira Bedi, who had the popular TV character Gutthi from Comedy Nights With Kapil, played by Sunil Grover, walk the ramp to showcase her latest sari collectio, says the loud cheers were testimony to the popularity of the character.

"I wanted a lovable character who appeals to people across the board. Gutthi is absolutely adorable. And she has a lot of admirers," Mandira said. Her show was held as part of a fashion event on October 5.

"It was about masti (fun). By inviting Gutthi to walk the ramp, I wanted to take the fun aspect of the pageant to a new level. And my collection, with all its happy colours, was called 'Joie de Vivre'. Who better to end my show than someone who has given so many people joy and laughter," asked the actress-anchor-designer.

Mandira says Gutthi brought the house down. "I've never heard such loud cheers at any fashion show. Gutthi got more applause than the biggest of supermodels. Every pose, every move that she made, every step she took, triggered off massive applause. It was unbelievable. I was taken aback by the response. People simply loved her. It was amazing," she said. (In pics: Drama Queen Gutthi Walks the Ramp for Mandira Bedi)


According to Mandira, it wasn't only the cross-dressing that appealed to the ramp watchers.
"It wasn't about a man dressed as a woman as much as it was about an extremely popular and loved character that was draped in a beautiful sari," she added.