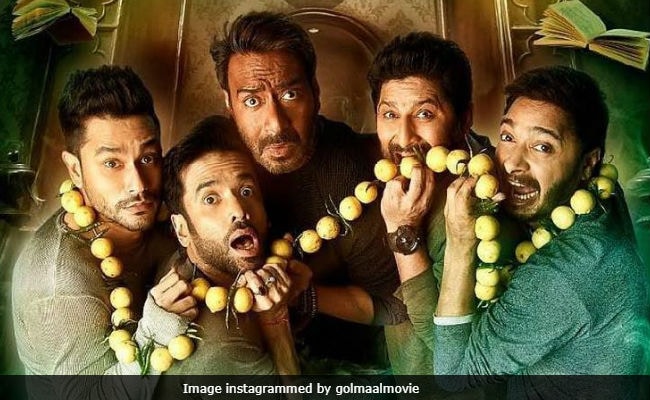 Cast: Ajay Devgn, Arshad Warsi, Shreyas Talpade, Tusshar Kapoor, Kunal Kemmu, Tabu, Parineeti Chopra
Director: Rohit Shetty
Genre: Comedy
Rating: 2 stars

Tabu is in Rohit Shetty's latest Golmaal movie. Seeing this powerhouse actress in a film so far removed from sanity is the equivalent of spotting Helen Mirren in a Carry On movie. That, however, is what Shetty does: he carries on, and somewhere along the way as his blockbusters continue minting money, perhaps every respectable actor in Hindi cinema will eventually hop along for a ride. The new film, Golmaal Again, opens with a music video where Arshad Warsi and Kunal Kemmu enter the frame on top of sportscars - leading man Ajay Devgn, of course, straddles two cars - and these vehicles run rings around Tabu, a new entrant to the franchise, one of our greatest heroines being circled by flashy commercial sharks. It all seems rather ominous.


Nobody, however, can accuse Shetty of false advertising. As a viewer, you go into this film fully prepared for inanity. Sanjay Mishra will misspell things,
Ajay Devgn will break a few fingers
, Vrajesh Hirjee will show up and Tusshar Kapoor will shut up. There will also be, naturally, a whole lot of slapping, and a few jokes about a blind man. This is what the franchise is built on, except this time Shetty has constructed the tomfoolery around an actual and reasonably elaborate plot, one involving ghosts and haunted houses and murder most foul. Now this is promising, the idea of a storyline no matter how juvenile, and as Tabu starts telling us the story of a picturesque orphanage and Shetty pulls into the building from afar - like zooming in on Asterix's village - there is a chance things may be different this time.

It is not. There is a story, yes, about a ghost righteously out for revenge, but the way she goes about getting it is unnecessarily convoluted and roundabout, rendering it unimportant. The villains never seem like a real threat - one of them is Neil Nitin Mukesh, which really says it all - and even though one should not go looking for rational thinking in these Shetty films, an effort at telling a story instead of just laying on relatively unfunny gags would have been nice.


Having said that, this is a marginally better film than
Golmaal 3
or
Golmaal Returns
, not like that's saying much. The reason is Devgn, who was painful in the earlier sequels, but is rather likeable this time as a scaredy-cat lummox who shyly falls for a much younger girl. The jokes resulting from this inappropriate gap in age are worth a laugh, especially when Devgn, who almost raised the little girl he is smitten by, desperately watches Yash Chopra's
Lamhe
in the hope of legitimising his crush.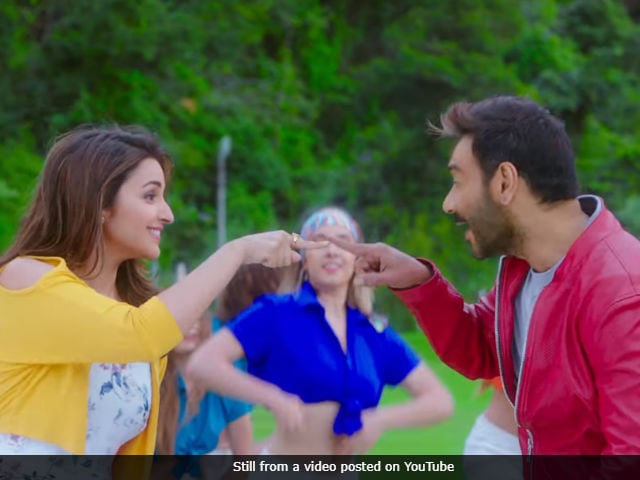 There isn't much else to see. Tusshar Kapoor and Kunal Kemmu think dressing up as Klansmen would be the scariest costume - this might not be wholly inaccurate, to be fair - and Tabu gets to overact as an overactress, while the constantly self-spoofing script drops in references to her films like Maachis and Cheeni Kum. Sanjay Mishra also gets in a good gag about a sub-Inspector. This may not be a memorably funny film, but unlike the last two, it isn't objectionably bad. It is, however, far too long and cumbersome.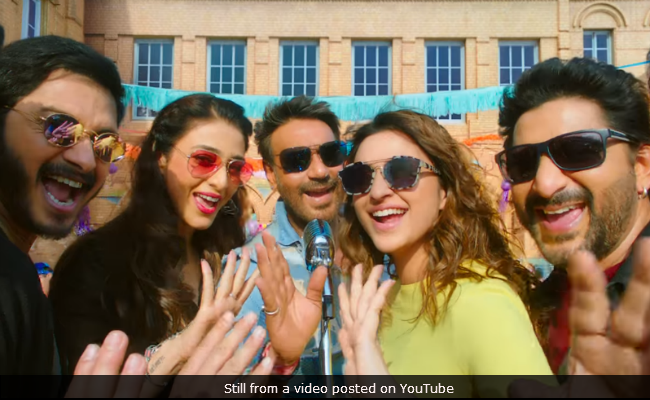 If there is an audience who loves this, we should try and see what that says about us. Just like the climax, which says everything we need to know about the filmmaker. Golmaal Again ends in a giant library, where books fly from the shelves and vengefully attack a man. Who needs soaring SUVs, anyway? Or a screenplay? The books batter, the books bash. We shouldn't be surprised. In a Rohit Shetty film, words are merely another tool to assault people with.