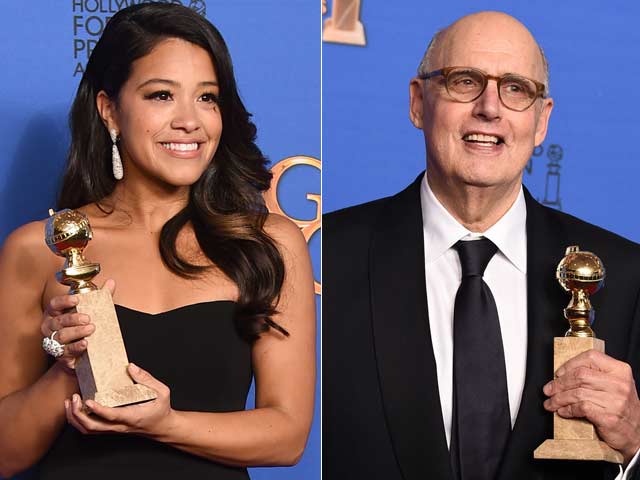 Los Angeles:
The Golden Globes took a stand for underdogs in its television awards by honoring a streaming service instead of a network for making the best TV comedy, and rookie actress Gina Rodriguez of
Jane the Virgin
for her acting.
Transparent
, which stars veteran actor Jeffrey Tambor as a transgender, won best comedy and Tambor was named best comic actor.
Transparent
is distributed by Amazon, and beat out two series from HBO, one from the CW and another streaming service, Netflix. (Golden Globes 2015:
List of Winners
)
"Maybe we're going to be able to teach the world something about authenticity and truth and love, to love," said Jill Soloway,
Transparent
creator.
A visibly moved Jeffrey thanked the Hollywood Foreign Press Association for helping to put
Transparent
on the map and dedicated his award to the transgender community.
"Thank you for your courage, thank you for your inspiration, thank you for your patience and thank you for letting us be part of the change," he said.
It was a red-letter day for Gina, who plays the title role in
Jane the Virgin
, about a girl artificially inseminated by mistake. Not only did she beat much-honored stars like Julia Louis-Dreyfus and Lena Dunham as best comedy actress, the CW network announced earlier on Sunday that the series had been picked up for its second season.
Gina is the second Latina actress to win the award in this category, after America Ferrara of
Ugly Betty
in 2007.
"This award is so much more than myself," said Rodriguez, who thanked her parents for allowing her to follow her dreams. "It represents a culture that wants to see themselves as heroes."
Actor Matt Bomer won a Globe as best supporting actor in a TV movie for playing a New York Times reporter with the AIDS virus in HBO's
The Normal Heart
. He thanked his husband and three children from the stage.
FX's movie adaptation of
Fargo
won the Globe for best television movie or miniseries, beating out three high-profile HBO series in the category. Billy Bob Thornton, who plays Lorne Malvo in the series set in rural Minnesota, won for best actor in a miniseries or movie and kept his acceptance speech safe and short.
"You can say anything in the world and get in trouble," Mr Thornton said. "I know this for a fact. So I'm just going to say thank you."
Joanna Froggatt won best supporting actress for her role of Anna Bates in PBS'
Downton Abbey
. Her character was raped in the show last season, and Ms Froggatt said in accepting her award that she had heard from several real-world victims of rapes in the aftermath of the episodes. She said she hoped the award would let them know that their voices had been heard.