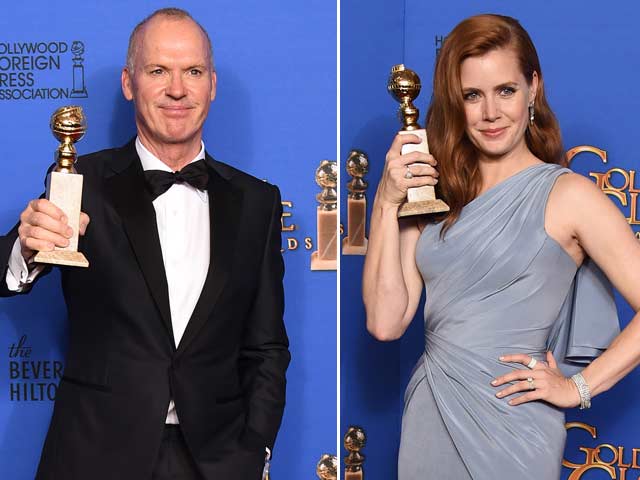 New Delhi:
The Golden Globes have just concluded in California.
Boyhood
, the second most nominated film with
The Imitation Game
, was the biggest winner scoring three times with Best Film - Drama, Best Director for Richard Linklater, Best Supporting TV Actress for Patricia Arquette.
Most nominated film
Birdman
won two out of its seven nominations - Best Actor - Comedy/Musical for Michael Keaton and Best Screenplay.
The Grand Budapest Hotel
received a rousing cheer as it won Best Film - Comedy/Musical.
Amy Adams won Best Actress - Comedy/Musical, the second year in a row, for
Big Eyes
. Last year, she won for
American Hustle
. Julianne who was nominated in both Best Actress categories won the award for Drama for
Still Alice
.
Eddie Redmayne won Best Actor - Drama for playing Stephen Hawking in
The Theory of Everything
, which also won Best Original Score.
First time nominees JK Simmons, Jeffrey Tambor and Gina Rodriguez won Best Supporting Film Actor for
Whiplash
, Best TV Actor - Comedy/Musical for
Transparent
and Best TV Actress - Comedy/Musical respectively.
House of Cards
' Kevin Spacey won Best TV Actor - Drama.
Neither Homeland's Claire Danes nor
The Good Wife
's Julianna Margulies (who has been nominated every year since 2010) went home lucky, losing Best TV Actress - Drama to
The Affair
's Ruth Wilson.
George Clooney received the Cecil B DeMille Award from Julianna Margulies and Don Cheadle. "I've had a pretty good year, and I'm not referring to the fabulous reviews of
The Monuments Men
. I've found someone to love even if I had to wait 53 years for it. Amal, I couldn't be prouder to be your husband," he said in his thank you speech. There was a time, not so long ago, that nobody would have believed these words could ever be spoken by Hollywood's most confirmed bachelor (once).vHere are all the Globe winners.
Movie:
Best Director: Richard Linklater,
Boyhood
Best Film - Drama:
Boyhood
Best Actress - Drama: Julianne Moore,
Still Alice
Best Actor - Drama: Eddie Redmayne,
The Theory of Everything
Best Film - Comedy or Musical:
The Grand Budapest Hotel
Best Actress, Musical or Comedy: Amy Adams,
Big Eyes
Best Actor, Musical or Comedy: Michael Keaton,
Birdman
Best Supporting Actress: Patricia Arquette,
Boyhood
Best Supporting Actor: JK Simmons,
Whiplash
Animated Film:
How to Train Your Dragon 2
Original Score: Johann Johannsson,
The Theory of Everything
Original Song:
Glory
(music by John Legend, Common),
Selma
Best Foreign Language Film:
Leviathan
Screenplay: Alejandro Gonzalez, Inarritu, Nicolas Giacobone, Alexander Dinelaris, Armando Bo for
Birdman
Cecil B DeMille Award: George Clooney
Television
Best Series, Drama:
The Affair
Best Actress, Drama: Ruth Wilson,
The Affair
Best Actor, Drama: Kevin Spacey,
House of Cards
Best Series, Musical or Comedy:
Transparent
Best Actress, Musical or Comedy: Gina Rodriguez,
Jane the Virgin
Best Actor, Musical or Comedy: Jeffrey Tambor,
Transparent
Best Mini Mini Series or Movie:
Fargo
Best Actress, Mini Series or Movie: Maggie Gyllenhaal,
The Honorable Woman
Best Actor, Mini Series or Movie: Billy Bob Thornton,
Fargo
Best Actress in Supporting Role: Joanne Froggatt,
Downton Abbey
Best Actor in Supporting Role: Matt Bomer,
The Normal Heart