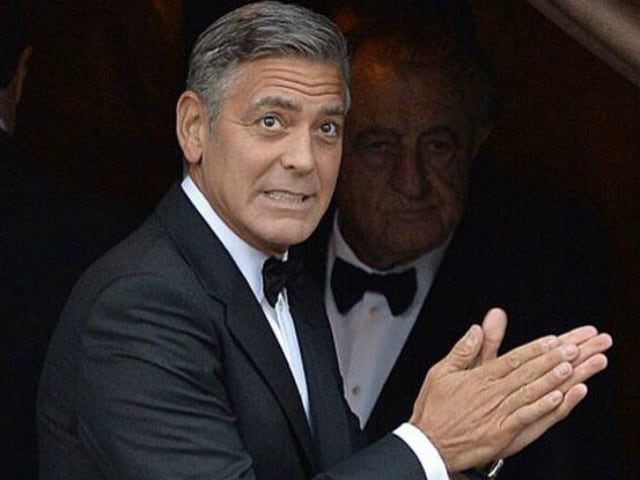 New Delhi:
The Oscars have been accused of whitewashing for the second year in a row after not a single name of colour appeared in the list of nominees announced on January 14. A massive backlash has included Black celebrities like Jada Pinkett Smith calling for a boycott and the trending hashtag #OscarsSoWhite. Actor George Clooney, winner of two Oscars, has added his comments to the outrage over the all-white nominations, telling
Variety
that Hollywood's report card on race equality is far worse now than it was 10 years ago.
"Let's look back at some of the nominees. I think around 2004, certainly there were black nominees like Don Cheadle, Morgan Freeman. And all of a sudden, you feel like we're moving in the wrong direction," Mr Clooney, 54, told
Variety
.
The absence of African-American actors in the nominee roster isn't for lack of worthy performances, he explained. "There were nominations left off the table. There were four films this year:
Creed
could have gotten nominations;
Concussion
could have gotten Will Smith a nomination; Idris Elba could have been nominated for
Beasts of No Nation
; and
Straight Outta Compton
could have been nominated. And certainly last year, with
Selma
director Ava DuVernay. I think that it's just ridiculous not to nominate her," Mr Clooney said. (Also Read:
#OscarsSoWhite, But Here Are 8 Great 2015 Performances by Black Actors
)
The acclaimed
Creed
's only nomination is in the Best Supporting Actor category for Sylvester Stallone, playing an aged version of Rocky Balboa, the role that netted him his previous two Oscar nominations in the Seventies. Michael B Jordan, who played protagonist Adonis Johnson, was overlooked by the Academy. Idris Elba, who was up for a Golden Globe, also went missing from the Oscar list.
Straight Outta Compton
's only nomination is for the writing.
Film critic Mark Harris pointed out that Oscar nominations have not featured an all-white list of names two years in a row since it happened in 1997 and 1998 consecutively, reports
New York Times
.
George Clooney's interview was preceded by public denouncements of the Oscars by African-American filmmaker Spike Lee, recipient of an honorary Oscar, posted this on Instagram:
Jada Pinkett Smith, whose husband Will Smith has been praised for his work in Concussion, said in a Facebook: "Begging for acknowledgement or even asking diminishes dignity and diminishes power, and we are a dignified people and powerful."
British actor David Oyelowo, passed over last year for his portrayal of Rev Martin Luther King Jr in Ava DuVernay's
Selma
, told
The Hollywood Reporter
: "For 20 opportunities to celebrate actors of colour, actresses of colour, to be missed last year is one thing; for that to happen again this year is unforgivable."
Mr Clooney had a simple explanation on behalf of his Black co-stars from the industry: "I think that African Americans have a real fair point that the industry isn't representing them well enough. I think that's absolutely true."
Cheryl Boone Isaacs, President of Academy of Motion Picture Arts and Sciences, said on Monday that she is "both heartbroken and frustrated about the lack of inclusion."
The Academy currently comprises of 6,000 elected members from the film industry. A 2012 review by Los Angeles Times points out that nearly 94 percent of the voters are white.
George Clooney concluded: "There should be 20 or 30 or 40 films of the quality that people would consider for the Oscars. By the way, we're talking about African-Americans. For Hispanics, it's even worse. We need to get better at this. We used to be better at it." (Also Read:
#OscarsSoWhite: How Winners Should Respond to Boycott by Black Actors
)