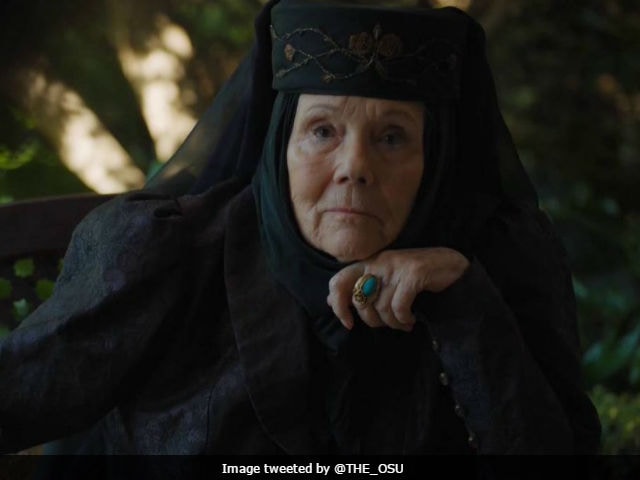 Highlights
Olenna confessed she poisoned Cersei's son Joffrey in season 4
Olenna Tyrell was given poison to drink by Jaime Lannister
"Tell Cersei I want her to know it was me," she told Jamie
New Delhi:
It's early days yet on
Game Of Thrones
season 7 and it's already getting all too much - very, very too much indeed. Twitter is bursting with all sorts of feels, because a) Jon Snow b) Tyrion Lannister and c and most importantly) Olenna, Queen of Thorns, who went out with a bang in an episode titled
The Queen's Justice
. Olenna Tyrell, astute of mind and acid of tongue and played by Diana Rigg, grande dame of the British stage and screen (she played Mrs James Bond, did you know?), was a favourite with
Game Of Thrones
fans. And what a way to go - not since Jon Snow's unexpected and shattering death a few seasons ago has an exit scene caused this many headlines, memes and whatnot.
Olenna Tyrell, given poison to drink by Jaime Lannister, delivered a body blow in between the drinking and the dying - it was she who engineered the murder of King Joffrey, son of Jaime and his sister Cersei. Tell Cersei, Olenna Tyrell urged Jaime before she died.
That's some insane swag. In between deep breaths, Twitter gave Olenna Tyrell a grand send-off - even getting in a joke at the expense of Anthony Scaramucci who has been fired as Donald Trump's media chief 10 days into the job.
"Tell Cersei, I want her to know it was me"... #GameOfThrones#GoTpic.twitter.com/Obzu3avntW

— Koshiek Karan (@iamkoshiek) July 31, 2017
Olenna Tyrell making her entrance to the afterlife #GOTpic.twitter.com/iPPVVtFXmu

— EL (Birthday Boy) (@Mhydex) July 31, 2017
Olenna went out exactly how I want to: glass of wine in her hand, telling her mortal enemy she murdered his first born child. #GoT

— Richard Butler (@rmdbutler) July 31, 2017
"Make sure the Mooch knows it was me" - Reince Tyrell #GoTpic.twitter.com/IFEEqyW5Aq

— Waiting for CFB (@THE_OSU) July 31, 2017
Olenna was like.... #GameOfThronespic.twitter.com/0SRF8KBMoq

— King Jon Snow (@LordSnow) July 31, 2017
Jamie: *offers Lady Olenna a painless death*
Lady Olenna: "Oh btw, I killed your evil son. Tell Cersei."
Jamie: #GameofThronespic.twitter.com/QMEIQmum7a

— (@dreaminhogwarts) July 31, 2017
This week's #gameofthrones
Jaime: ima finna poison yo ass
Olenna: bitch *chug* tf p.s. i killed yo son pic.twitter.com/uGXBdJwiaP

— Yusuf (@Honestlytbhidc) August 1, 2017
House Tyrell is now one short (in fact, House Tyrell all but dies with Olenna) but another fan favourite returned to reclaim his honours. Tyrion Lannister, with a tongue almost as wicked as Olenna's, has an eye on Casterly Rock and the legacy of his father Tywin.
And, of course, there's Jon Snow, who knows something now and has the formidable Daenerys, Mother of Dragons, to impress.