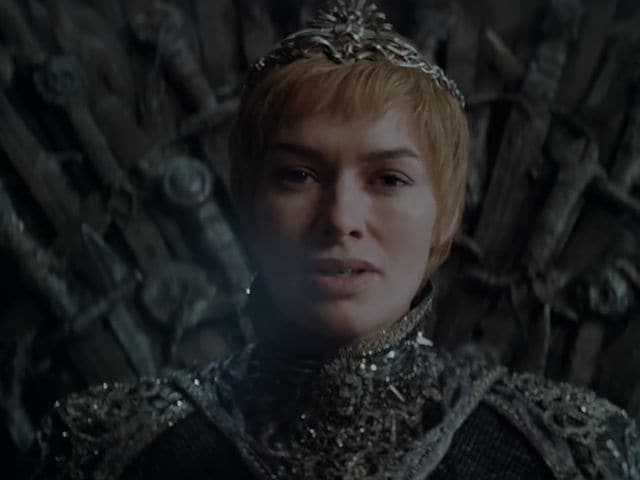 Highlights
Jon Snow, Daenerys, Cersei are on Night's King's watch
Game Of Thrones 7 premieres on July 7
The teaser doesn't mention the whereabouts of Arya and Bran Stark
New Delhi:
Game Of Thrones 7
teaser will give you
winter chills at the onset of summer
. The teaser which released Thursday night is arguably one of the best which has succinctly puts together the major conflicts of the upcoming season - Jon Snow vs Daenerys Targaryen vs Cersei Lannister. But wait, the white walkers watching too. In the first teaser of
Game Of Thrones
season 7, Jon Snow, Daenerys and Cerise walk towards a throne - only Cersei sits on the iron throne (she was crowned protector of the seven realms in season 6 finale) and it was the hint of winter in Cersei's breath which gave us chills. But what really stole the show was the fact that it was the vision of the king of the White Walkers. The end is near and we cannot wait for the new season to unfold.
Watch the teaser of Game Of Thrones 7:
At the end of the last season, Jon snow killed Ramsay Bolton and reclaimed Winterfell after which he was crowned king of the north with several other regions giving their allegiance. Daenerys is seen heading towards the Iron Throne with her massive army, three dragons and Tyrion Lannister as the king's (read queen) hand.
Other major characters like Sansa Stark (who reunited with Jon Snow in season 6) and Arya Star (who was heading to the King's Landing were not shown in the first teaser, reiterating that this season is all about the major contenders to the conflicted Iron Throne. Meanwhile, Bran Stark knows a secret about Jon Snow's parentage which
may change the game forever
. Jon Snow is the son of Rhaegar Targaryen, Daenerys deceased brother and Ned Stark's sister Lyanna.
Game Of Throne 7
premieres on July 7
.