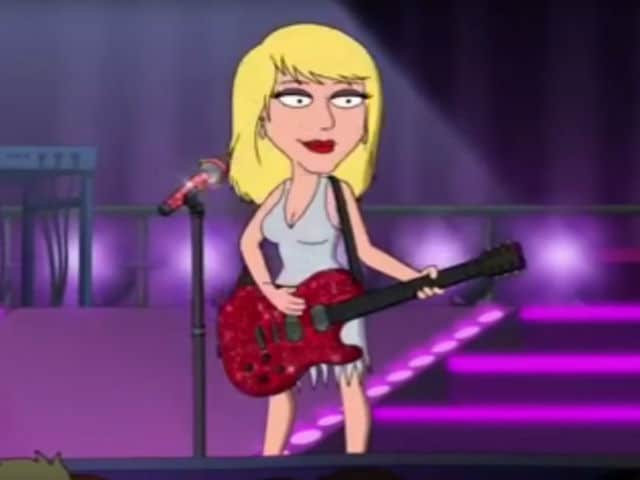 Highlights
An entire episode is dedicated to Taylor Swift and her revenge songs
Animated Taylor says she breaks up with guys to write songs on heatbreaks
The episode is from the show's series 15
Los Angeles:
The makers of animation show
Family Guy
dedicated an entire episode to singer Taylor Swift, taking a dig at her habit of writing revenge songs about her former boyfriends. In the episode, Taylor breaks up with fictional character Chris Griffin saying "just so I can write songs about heartbreak", reports
Metro
.
The episode titled
Chris Has Got A Date, Date, Date, Date, Date
from series 15, her habit of writing so-called 'revenge' songs was ridiculed, as well as
her squeaky-clean image
.
After breaking up with Chris, the animated version of Taylor writes a cruel song about him behind his back. It is called
The boy in the giant tux
. It has lyrics: "I know you're just blubber in a dress shirt."
Explaining why she would do such a thing, Taylor later tells him: "I ruin relationships with nice guys and John Mayer just so I can write songs about heartbreak and moving on."
Chris later goes on a rant at the singer, saying: "Taylor Swift, you are a spoiled, ostrich-legged, no-talent, big-footed freak. You pretend to relate to your fans but you make your bodyguards carry your purse! All your songs sound the same! And your cats aren't that cute."
(This story has not been edited by NDTV staff and is auto-generated from a syndicated feed.)