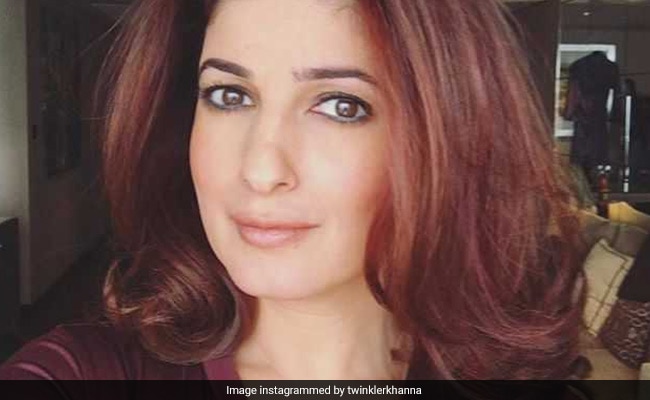 Highlights
Twinkle Khanna says she 'failed as an actress'
Twinkle Khanna wanted to be a chartered accountant
"Having failed at something didn't mean I was a failure," says Twinkle
New Delhi:
We're fond of Twinkle Khanna for many things - her quick-witted tweets, her keen sense of interior design and definitely her candid thoughts. But actor-turned-writer Twinkle, star of films such as
Jab Pyaar Kissi Se Hota Hai
and
Mela
, says that she 'failed spectacularly as an actor.' Twinkle, who was present at an event in Mumbai on Wednesday, said: "Eight years later, I came to the conclusion that I had spectacularly failed as an actress. Though this was a bit disheartening, I wasn't shattered, partly because of the way my mother had raised me, and also because I realised that having failed at something didn't mean that I was a failure," reports news agency PTI.
Twinkle, who is now the author of two bestsellers -
Mrs FunnyBones
(a compilation of humour columns) and
The Legend Of Lakshmi Prasad
, says that when you don't take success very seriously it's easier to shrug off failure. Twinkle told PTI: "When I finished my 12th grade, I wanted to become a chartered accountant. But since my parents (Rajesh Khanna and Dimple Kapadia )were in the entertainment business, they were keen I follow their footsteps and I did."
Before Twinkle became an author she was an actress and has featured in films like
Jab Pyaar Kissi Se Hota Hai
with Salman Khan,
Mela
with Aamir Khan and
Baadshah
with Shah Rukh Khan.
Twinkle's broken dreams didn't damper her spirits
. "The failure meant that I now had the opportunity to try and succeed at million other things. I moved on and here I am today. Life is like flying a kite. Sometimes you have to hold on tight, sometimes loose. Sometimes your kite can fly effortlessly and at other times no matter what you do, you cannot control it. But even when you're struggling to keep your kite afloat, and the string is cutting into your hand, don't let go. The wind may change once again in your favour, just don't let go," Twinkle said.
Twinkle has produced several films via Akshay Kumar's Grazing Goats Pictures and has now opened her own production firm named Mrs Funnybones Movies. Her first film as
producer will be R Balki-directed Padman,
starring Akshay Kumar, Sonam Kapoor and Radhika Apte.
Twinkle Khanna, daughter of Rajesh Khanna and Dimple Kapadia, is married to Akshay Kumar. They are parents to 15-year-old Aarav and 5-year-old Nitara.
(With inputs from PTI)