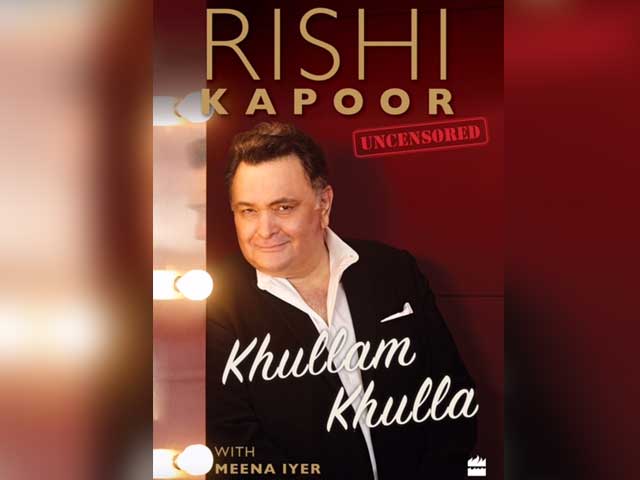 New Delhi:
Khullam Khulla: Rishi Kapoor Uncensored is priced at Rs 599. You can buy it
here
I was very young when my father had an affair with Nargisji, and so was not affected by it. I don't remember feeling anything was amiss at home either. But I do remember moving into the Natraj Hotel on Marine Drive with my mom during the time Papa was involved with Vyjayanthimala. My mother had decided to put her foot down this time. From the hotel, we shifted for two months into an apartment in Chitrakoot (the building still stands on the curve of Altamount Road). My father had bought the apartment for Mom and us. He did all he could to woo her back, but my mother wouldn't give in until he had ended that chapter of his life.
In an interview published a few years ago, Vyjayanthimala denied ever having an affair with my father. She claimed that he had manufactured the romance because of his hunger for publicity. I was livid. How could she be so blase; and pretend the affair never happened? She had no right to distort facts just because he was no longer around to defend the truth. When her book hit the stands, several friends in the media contacted me for my reaction and I told them exactly what I thought. With time though, my anger has ebbed. I've come to accept that people tend to gloss over uncomfortable facts for reasons of their own. But I can say with absolute certainty that if Papa had been alive, she wouldn't have denied the affair so blatantly or called him publicity hungry.
My father did everything with great pomp and show and that included our wedding ceremonies. He flew in the maestro Ustad Nusrat Fateh Ali Khan from Pakistan for my sangeet. It was a typical Raj Kapoor event that started at 11.30 p.m. and continued till 6 a.m. J.P. Chowksey later told me that something unexpected had happened on my wedding day too. Nargis-ji had not set foot in RK Studios after she completed Jagte Raho in 1956. However, that day, she came with Sunil Dutt to attend the ceremony. She was apparently very nervous about attending a Kapoor event after twenty-four years. My mother, sensing her hesitation, reportedly took her aside and said, 'My husband is a handsome man. He is also a romantic. I can understand the attraction. I know what you are thinking, but please don't beat yourself up over the past. You have come to my home on a happy occasion and we are here today as friends.'
About Khullam Khulla: Rishi Kapor Uncensored -

Few actors in Hindi cinema have had this sort of a career arc: from the gawky adolescent pining for his schoolteacher (Mera Naam Joker, 1970) to the naughty ninety-year-old (Kapoor and Sons, 2016), Rishi Kapoor has regaled audiences for close to fifty years. He won a National Award for his debut, became an overnight sensation with his first film as a leading man (Bobby, 1973), and carved a niche for himself with a string of romantic musical blockbusters in an era known for its angst-ridden films. He was the youth icon that is still the toast of the satellite TV circuit. The songs he lip-synced are the bread and butter of all radio stations even today. Then there was the second coming after a brief hiatus in the 1990s - as one of the finest actors in mainstream Hindi cinema with powerhouse performances in films like Do Dooni Chaar, D-Day, Agneepath and others.


Characteristically candid, Rishi Kapoor brings Punjabi brio to the writing of Khullam Khulla. This is as up close and personal a biography as any fan could have hoped for. He writes about growing up in the shadow of a legendary father, skipping school to act in Mera Naam Joker, the workings of the musical hits of the era, his streak of rotten luck with awards, an encounter with Dawood Ibrahim, his heroines (their working relationship, the gossip and the frisson that was sometimes real), his approach to his craft, his tryst with clinical depression, and more. A heart-warming afterword by Neetu Singh rounds off the warmest, most dil se biography an Indian star has ever penned.
Excerpted with permission from HarperCollins