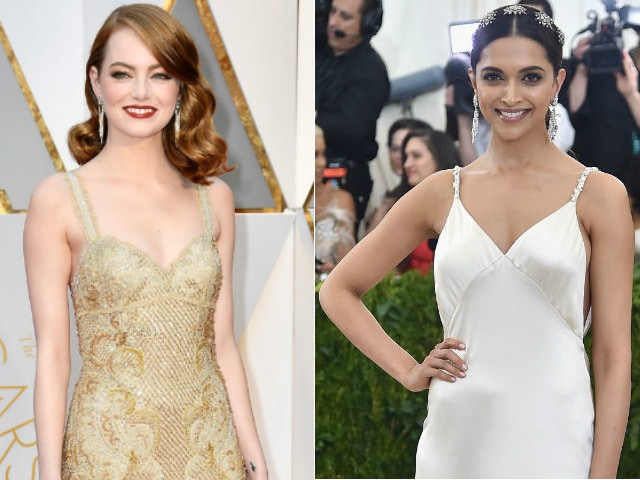 Highlights
Jennifer Aniston ranks second with $25.5 million
Jennifer Lawrence holds the third spot with $24 million
Amy Adams rounds up the list with $11.5 million
New Delhi:
Forbes
has released
this year's list of the world's 10 highest paid actresses
and homegirl Deepika Padukone, ranked #10 in 2016, has not made the cut this time. As
Forbes
put it: "The list examined actresses the world over, but no stars from Asia made the cut, as Fan Bingbing and Deepika Padukone dropped off due to quieter years." Deepika's starring role in
xXx: The Return Of Xander Cage
- also her Hollywood debut -
contributed hugely to her earnings of $10 million last year
. She has no international project currently and is working on one film at home - the period drama
Padmavati
, co-starring Ranveer Singh and Shahid Kapoor. Also absent from
Forbes' 2017 list
is Scarlett Johansson - this is the first time in three years that she hasn't made the grade.
So who is on the list? Emma Stone, Oscar-winner for
La La Land
, is #1 for the first time, with
Forbes
reporting earnings of $26 million. Jennifer Lawrence, who topped the list two years in a row, has slipped to third place, behind Jennifer Aniston. The Jennifers are at $25.5 and $24 million respectively - JLaw made just half of her 2016 total.
The top three on the list of 10 are the only actresses to have made over $20 million. They are followed by Melissa McCarthy, Mila Kunis, Emma Watson, Charlize Theron, Cate Blanchett, Julia Roberts and Amy Adams.
Forbes
reports a 16% drop in the cumulative earnings of the world's top actresses - $172.5 million this year, down from $205 million in 2016.
Forbes
also notes that half the actresses on the list are over 40 - Jennifer Aniston, Melissa McCarthy, Charlize Theron, Cate Blanchett, Julia Roberts and Amy Adams - a significant achievement given the scarcity of roles for women their age.
Forbes
also flags another ugly truth - only 28.7% of speaking roles in films are filled by women.
Awaited, the list of the 10 highest paid TV actresses on which
Priyanka Chopra might find a place
, as she did last year.
Here is the full list of the world's highest paid actresses and earnings as ranked by
Forbes
:
1. Emma Stone - $26 million
2. Jennifer Aniston - $25.5 million
3. Jennifer Lawrence - $24 million
4. Melissa McCarthy - $18 million
5. Mila Kunis - $15.5 million
6. Emma Watson - $14 million
7. Charlize Theron - $14 million
8. Cate Blanchett, - $12 million
9. Julia Roberts - $12 million
10. Amy Adams - $11.5 million