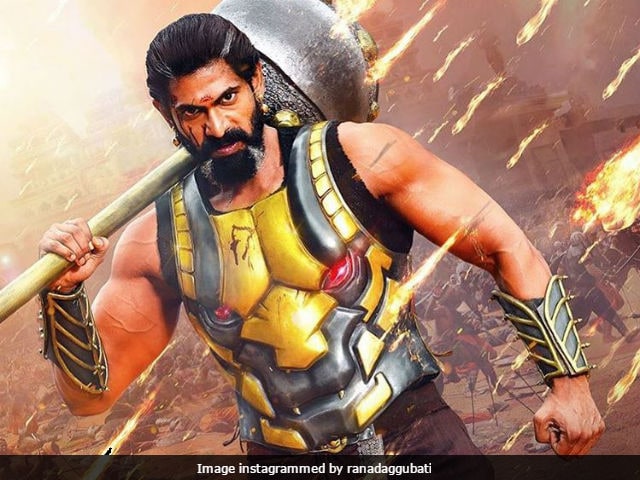 Highlights
"It is the biggest film in the country," says Rana
Baahubali 2 is expected to reveal why Katappa killed Baahubali
Baahubali 2 will premiere worldwide a day ahead of the release
New Delhi:
Actor
Rana Daggubati, who is currently awaiting the release of S S Rajamouli's epic film
Baahubali: The Conclusion
, says that the team never realised that the 'film will be so big,' reports news agency IANS.
Baahubali: The Conclusion
, is one of the most-anticipated films of the year. "It is the same story audiences are going to watch after two years. It's the continuation of what happened at the end of first part. When we were making part one, we didn't realise how big it will become and where it will take us. The fact that it has become a brand and has been accepted even internationally, gives you so much more strength to make a greater part two. Ultimately, everything that we have made in this film is bigger than the first part," Rana told IANS. The 32-year-old actor, plays the role of king
Bhallala Deva in both the films
.
The second chapter of the epic drama,
Baahubali: The Conclusion,
also stars Prabhas, Sathyaraj, Anushka Shetty, Tamannaah Bhatia and Ramya Krishna. Part 2 will show Bhallala Deva's rise to power as Mahishmathi's ruler after Katappa (Sathyaraj) kills Baahubali (Prabhas).
"I think
Baahubali
has proved it that when you're making a film for the entire nation, it is bigger than any film made in one language. You could be a filmmaker sitting in Madurai and if you have a great superhero film to make, you have the faith and confidence to make your film because there's a country of audience to watch it," Rana told IANS.
Ahead of its release, the epic fantasy has made a profit of Rs 500 crore through its distribution and satellite rights. The film is now four days away from its release (April 28).
Baahubali: The Conclusion
released in July 2015 and is so far one of the most profitable films of the year.
"I
t is the biggest film in the country
and even if I played any other character, it would have given me the same visibility. This is franchise cinema which is far bigger than any film that I have been part of so far," the actor further explained.
Of his role,
The Ghazi Attack
star said, "It's a Rs 450 crore war film and it will give you far greater visibility.
Baahubali
helped me explore new avenues across borders. It has taught me to take content to wherever I want and made me understand and portray a character better," he told IANS.
Last week, various
pro-Kannada outfits had threatened to ban Baahubali: The Conclusion's release
until Katappa actor Sathyaraj apologised for his statement on Cauvery water row. Later, Sathyaraj through a video, apologised and said, "I'm not against Kannadigas. I'm sorry if my words hurt you. I'm a small player in Baahubali, my words shouldn't affect the film."
Baahubali: The Conclusion
will release across 6,500 screens in Tamil, Telugu, Malyalam, Kannada and Hindi. The film will also have a world premiere a day ahead of the release.
(With IANS inputs)