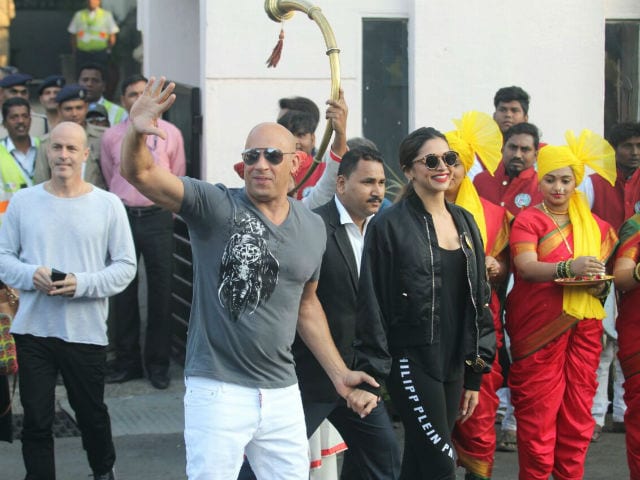 Highlights
Deepika, Vin and DJ Caruso received a grand welcome
Deepika and Vin's schedule includes a press conference
Deepika is making her Hollywood debut with xXx 3
New Delhi:
Hollywood star Vin Diesel received the most desi of welcomes
when he arrived in Mumbai this morning with his
xXx: The Return Of Xander Cage
co-star Deepika Padukone. Homegirl must have been prepared for the blockbuster Bollywood-style reception they were given but Vin, 49, and their director DJ Caruso seemed somewhat overwhelmed. As well they might - the reception committee also included a posse of paparazzi which chased the
xXx 3
convoy down the streets of Mumbai as they were driven to the St Regis hotel. At about 8 am on Thursday morning,
Deepika, dressed in black, Vin and DJ Caruso exited their plane
to be greeted by a lavish welcome from women dressed in the traditional Maharashtrian
nauvari saris
, some of them riding motorbikes flying penants emblazoned with the
xXx
logo. There was music, there was the traditional
'tilak'
- it was, as director Caruso put it in a tweet, the 'greatest welcome ever.'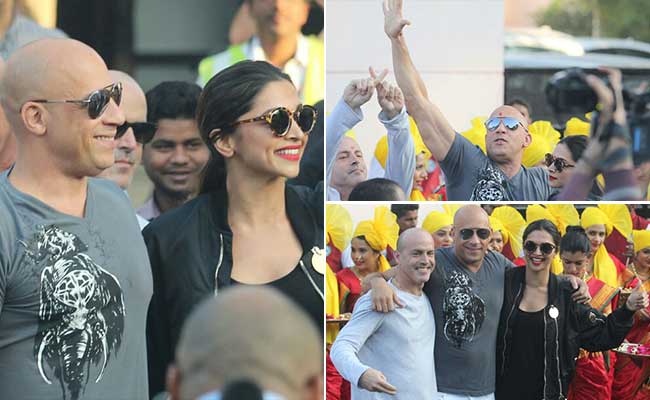 When the stars left the airport for the St Regis, the cameras followed. From his vantage point in a vehicle behind the one carrying his actors, DJ Caruso took this picture of photographers grimly clinging to the top of a car and the back of a motorbike to take photos of Deepika and Vin.
@deepikapadukone and #VinDiesel Chased by photographers on streets of muambi. I am in car behind them! pic.twitter.com/skeVRz5Ci9

— D.j. Caruso (@Deejaycar) January 12, 2017
Meanwhile, Vin shared his excitement on Instagram and said, "So honored to be here in India for the first time."
Today's packed schedule will see
Deepika Padukone and Vin Diesel
address the press at their hotel, meet fans and attend the premiere of their film.
xXx: The Return Of Xander Cage
has already premiered in Mexico last week and in London two days ago. Deepika was spotted at a Golden Globes after party on Sunday in Los Angeles, representing her film.
xXx: The Return Of Xander Cage
is the third in the
xXx
film series and Deepika's Hollywood debut. The 31-year-old star, who was named the world's tenth highest paid actress last year by Forbes, plays a special agent named Serena Unger opposite Vin Diesel who returns as the eponymous Xander Cage, an extreme athlete-turned-government operative. Additional cast includes Ruby Rose, Samuel L Jackson, Nina Dobrev and Tony Jaa.
xXx: The Return Of Xander Cage
will be Deepika's first release since 2015's Ba
Bajirao Mastani
. It opens in India this Saturday, a week ahead of the rest of the world.