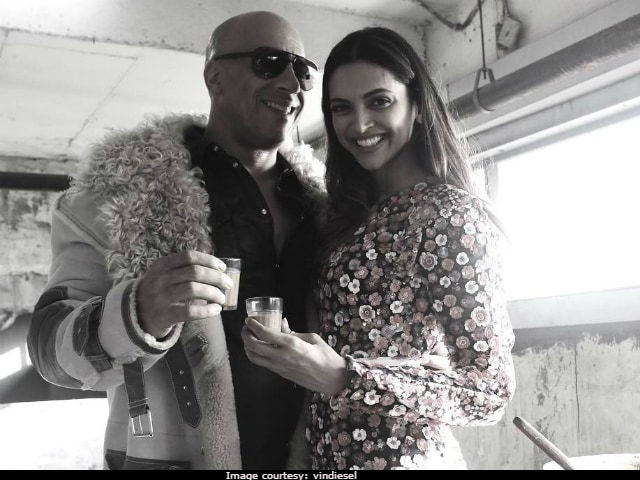 Highlights
Deepika recently appeared solo on The Ellen Show
Deepika is making her Hollywood debut with xXx 3
Deepika also said the xXx 3 audition turned out to be a rushed affair
New Delhi:
It's true love between Deepika Padukone and Vin Diesel, it really is.
She kind of said so on The Ellen Show, on which she makes her debut appearance
and recorded the episode yesterday. Blushing, Deepika told host Ellen DeGeneres that in her head, she and her 49-year-old co-star "have amazing babies," reported news agency IANS. When Ellen asked her about a romance, Deepika giggled, "There's no smoke without fire" -
this seeming crush is clearly reciprocated by Vin
, Deepika's co-star from
xXx: The Return Of Xander Cage
, who showered her with compliments while promoting the film in Mumbai last week, referring to her as a "queen" and an "angel" and planting a peck on her cheek.
A statement of excerpts released by channel Romedy Now and reported by IANS reveals that Ellen asked her guest, "There is a romance going on, that's what you would get from that as well... Look at that face! Does that mean there is?" Deepika, 31, responded, "Well, there is no smoke without fire!"
Deepika, who appeared solo on
The Ellen Show
, was quick to clarify: "But, it's all in my head! So yeah, I mean in my head I think, like yeah, we are together and we have this amazing chemistry, and we live together and we have these amazing babies! But it's all in my head." (Aside: so Ranveer Singh, Deepika's rumoured boyfriend of many years, needn't worry, right?)
Deepika Padukone also revealed that she had originally tried out for a Fast And Furious instalment
and that didn't work. "I actually auditioned for '
Furious 7
' about two or three years ago and for whatever reason that didn't work out and I think people remember me for that audition. Everyone talks about that chemistry and people remember me from that and then, about a year ago, I get a call from Paramount saying that they are casting for this film and I flew down and met DJ, my director Caruso, and then Vin found out in Los Angeles that I was in Toronto. So overnight, luckily I had a visa, and he said, 'I want her to come and see me'."
The
xXx 3
audition, if an audition it was, turned out to be a rushed affair. "So, overnight I flew down from Toronto to Los Angeles to see Vin and suddenly in the middle of the night we are doing this forty-five minute photo-shoot. Professional, with lights, with this and that, I was like what is going on! Because I didn't know if I got the part, I still don't know if I got the part. He just... we got into this really serious photo-shoot. I don't know if you guys have seen the picture, and that was it," Deepika said.
She was caught by surprise when Vin Diesel made the
xXx 3
announcement about her. "He just put it up and I said, I hope you know that if you put up that means I'm doing this movie. He still didn't say anything. He just put it up."
This was what Vin Diesel posted at the end of 2015:
Deepika revealed on her Instagram account that she had shot for
The Ellen Show writing
, "This just happened." Her stylist posted an image of Team Deepika in front of the studio:
The episode will air in USA tonight and in India tomorrow.
xXx: The Return Of Xander Cage
, directed by DJ Caruso, is Deepika Padukone's Hollywood debut and released in India last Friday. The film co-stars Ruby Rose, Nina Dobrev and Samuel L Jackson and releases everywhere else tomorrow.
(With inputs from IANS)