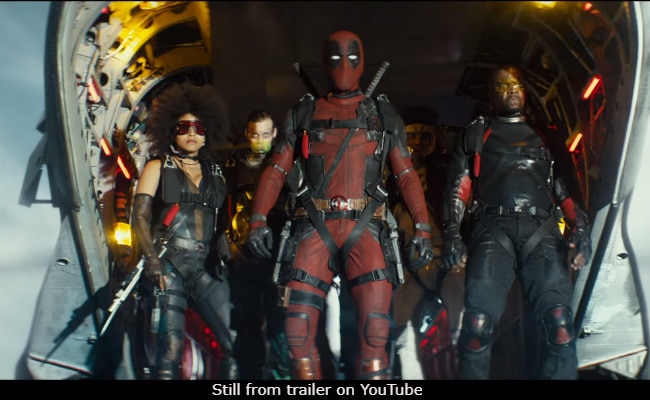 Highlights
Deadpool 2 releases on May 18
Josh Brolin plays the villain in the movie
He stars as an antagonist named Cable
New Delhi:
The new trailer of Deadpool 2
is here. Just when the
Deadpool 2
trailer starts with guitar strums to
All Out of Love
, you know something is not right! Well, no it isn't. Just the next moment Deadpool crash-enters a cab - his favourite cab in the world actually (driven by Dopinder) because he was being chased down by an angry mob. Why? We don't know. Don't ask too many questions, please. Don't you know how unpredictable Deadpool is? Looks like he was to meet his girlfriend Vanessa (played by Morena Baccarin) and this is how he apologised for being late: "Sorry I'm late... I was rounding up all the gluten in the world and launching them into space so that they can NOT hurt us ever again!"
"Kiss me like you miss me," was the response. Okay, then.
Romance aside, soon Josh Brolin, who plays the villain, introduces himself as: "My name is Cable. I'm here for the kid." While Deadpool takes some time to register the new villain, he makes up his mind to not let him win. Of course, not! "We're going to form a super-duper f****ng group. We need them tough, morally flexible and young enough to carry their own franchise for 10-12 years. We'll be known as X-Force," he says and builds his A-Team indeed. (Hope you didn't miss the superhero franchise reference.) One of the typically Deadpool punchlines also makes a hilarious reference to
Sisterhood Of The Travelling Pants
(Blake Lively starred in it).
"Doing the right thing is messy but if you wanna fight for what's right, sometimes, you have to fight dirty," he adds and oh boy, he means every word of it. Throughout the rest of the trailer Deadpool fights with guns, fists, swords, kicks and what not.
This is how Ryan Reynolds aka Deadpool reviewed the trailer on Twitter: "
Deadpool 2
. Falling somewhere between
The Godfather 2
and
Dirty Dancing: Havana Nights
. LOL.
Deadpool 2. Falling somewhere between The Godfather 2 and Dirty Dancing: Havana Nights. pic.twitter.com/pdbjGJs18c

— Ryan Reynolds (@VancityReynolds) March 22, 2018
Here you go:
The cast of
Deadpool 2
also includes names like Brianna Hildebrand, Zazie Beetz, Terry Crews, T.J. Miller and Jack Kesy.
Deadpool 2
will be directed by David Leitch and is scheduled to arrive in theatres on May 18.