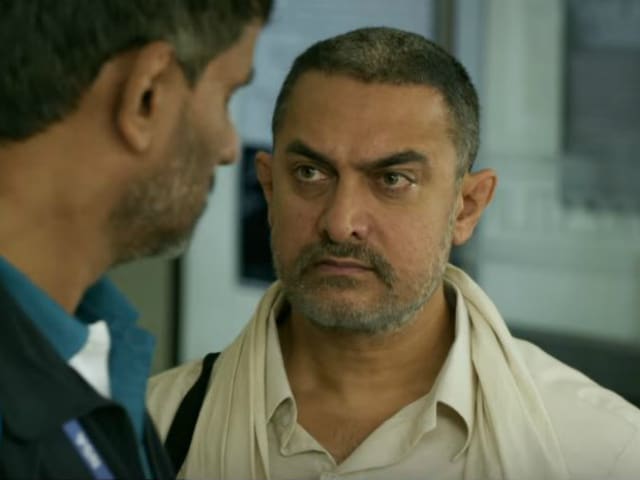 Highlights
P R Sondhi is unhappy with the way he's been portrayed
'In every biopic little fiction is added,' said Aamir
'Essence of their story is kept intact,' Aamir added
New Delhi:
Aamir Khan's
Dangal
has received glorious reviews
from almost everybody - its handful of critics include P R Sondhi, the wrestling coach who trained the real life Phogat sisters for 2010's Commonwealth Games. Mr Sondhi is unhappy with the way he's been portrayed in the biopic and accused Team
Dangal
of
casting him in an unflattering light
. On Thursday, Aamir Khan addressed Mr Sondhi's allegations and said that when a biopic is made, fact is always mixed with a touch of fiction but the "essence" of the story is retained, reported news agency ANI. In
Dangal
, the 51-year-old actor featured as Mahavir Singh Phogat, the father of wrestler sisters Geeta and Babita. Actor Girish Kulkarni played the role of Geeta Phogat's coach in
Dangal
.
This is what Aamir Khan,
currently holidaying in Panchgani
with family and friends, had to say about P R Sondhi's allegations: "In every biopic little fiction is added but essence of their story is kept intact," ANI reported.
In every biopic little fiction is added but essence of their story is kept intact: Aamir Khan on Geeta Phogat's coach's allegations #Dangalpic.twitter.com/HZBuDVHIrS

— ANI (@ANI_news) December 29, 2016
Mahavir Singh Phogat trained his two daughters - Geeta and Babita - in wrestling before they were coached by P R Sondhi for the Commonwealth Games.
Actresses Fatima Sana Shaikh and Sanya Malhotra play the roles of the Phogat sisters
, whose on screen coach in
Dangal
is named P R Kadam. Nevertheless, the character appears to be based on Mr Sondhi, now 70. P R Kadam is cast as the anti-hero in
Dangal
, acting as an obstruction between Geeta and her father in the climactic sequence. In the final wrestling match of the film, P R Kadam locks an over-eager Mahavir Phogat in a room to prevent him from distracting Geeta. Real life coach P R Sondhi alleged that none of this ever happened during the three years Geeta and Babita trained under him, reported
mid-day.com
.
"They have changed the name to P R Kadam in the film, but somewhere the character is loosely based on my life. I have known Mahavirji (Phogat, wrestling coach and father of Geeta and Babita Phogat) for many years and he is a thorough gentleman. His two daughters have trained under me for more than three years and not once did he interfere. I don't understand the need to show the character as such a taskmaster. There were four other coaches, who were also involved [in the training], but they haven't been shown in the film at all,"
mid-day.com
quoted the wrestling coach as saying.
Offended by what he considers misrepresentation, P R Sondhi told
mid-day.com
: "Distortion of facts has hurt my reputation. Once I watch the film, I will speak to the wrestling federation. I also plan to meet Aamir and seek an explanation."
Mr Sondhi also said that he met Aamir during the shooting of
Dangal
but was never informed about the allegedly distorted portrayal of his character. "Kripa Shankar Bishnoi, who trained Aamir for
Dangal
, has been my student. When we all met, Aamir asked me general questions about wrestling, but not once did he discuss anything about the film. He should have told me how they were planning to portray the coach's character," Mr Sondhi added, reported
mid-day.com
.
Dangal has made almost Rs 177 crore
so far and is speeding toward the 200 crore mark, trade analyst Taran Adarsh tweeted on Thursday. The film is also doing very well in international markets. Directed by Nitesh Tiwari,
Dangal
is Aamir Khan's first release since 2014's
PK
which continues to be Bollywood's highest-grossing film so far.
Dangal
also stars TV celeb Sakshi Tanwar as Mahavir Phogat's wife Daya Kaur.