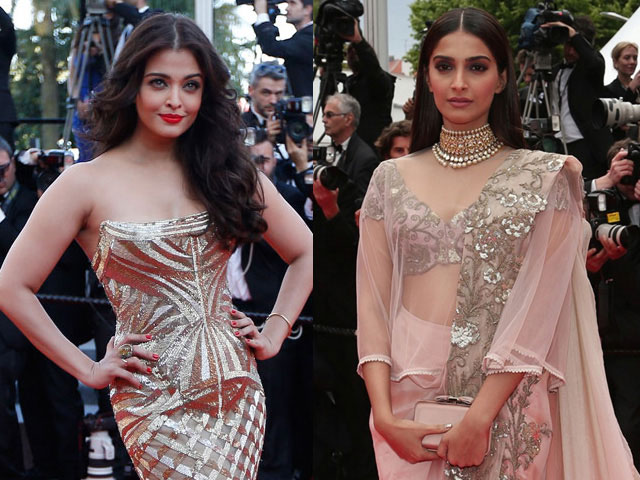 Of the 18 years that she's been working in the movie business, actress Aishwarya Rai Bachchan has dedicated part of 13 to her appearances at the Cannes Film Festival. This will be her 14th year on the Croisette. Aishwarya has been representing cosmetics giant L'Oreal on the French Riviera since 2002. Since then, her fashion hits and the Indian presence at Cannes have both increased exponentially.
Aishwarya's had some trouble in the past packing for the Cannes red carpet. A series of garish Neeta Lulla saris in the first few years prompted her to eventually switch designers. She began racking up red carpet wins in couture dresses by Armani and Elie Saab, and changed from Neeta Lulla into Abu-Sandeep and finally into Sabyasachi. But it was only last year that Aishwarya set one of the world's most watched red carpets on fire in a series of sensational dresses by Roberto Cavalli.

Over the years, actresses Sonam Kapoor and Freida Pinto have joined Aishwarya as faces of L'Oreal. This is Sonam's fifth year at Cannes. Both have made a splash on the red carpet, photocalls and parties like the one hosted by Chopard in impossibly glamorous outfits by Anamika Khanna, Oscar de la Renta, Elie Saab and the like. (Also read -
Cannes 2015: Sonam Kapoor's Beauty and Workout Secrets
)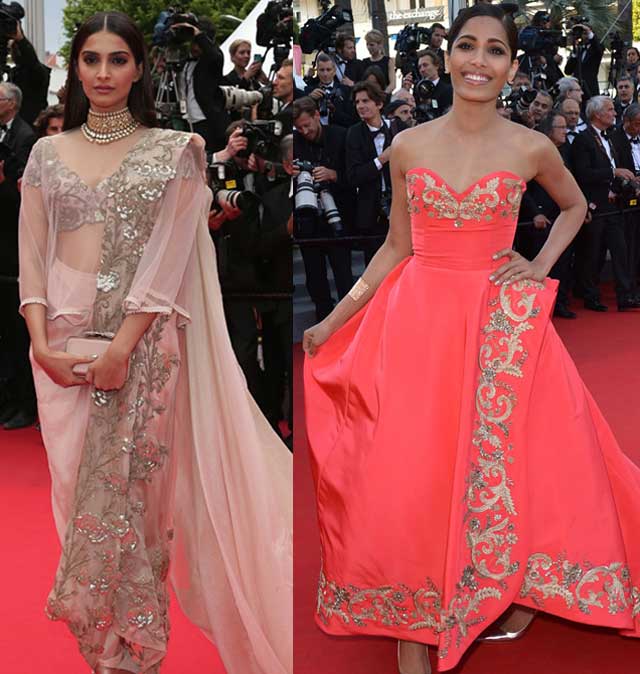 This year, Freida will be absent but her place will be filled by actress Katrina Kaif who was meant to have made her Cannes debut last year but is ending up doing it in 2015.
Actress Mallika Sherawat, a non L'Oreal attendee, manages to make it to Cannes regularly as well - a vaguely astonishing statistic given that nobody can remember the last major film she's been in. Nevertheless, Mallika pops up on the French Riviera every year now, this time invited by FICCI to participate in a discussion on 'Co-Produce in India.'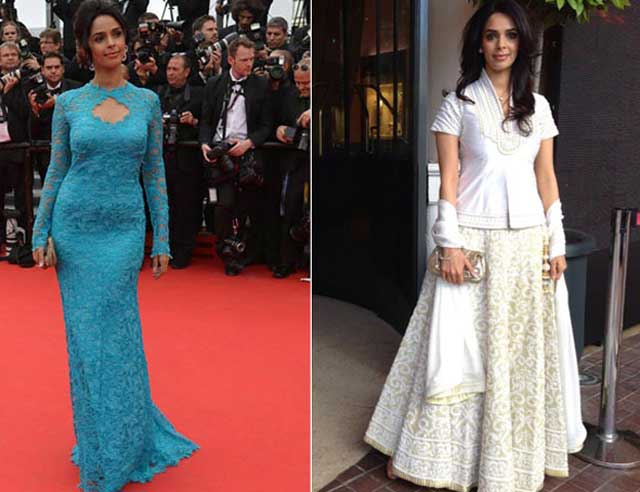 None of these actresses, however, are as beloved in Cannes as Aishwarya who is received every year by crowds of autograph-hunters shrieking her name as she sashays onto the red carpet. They have no trouble pronouncing her name. Aishwarya also annually chairs the amfAR gala with husband Abhishek.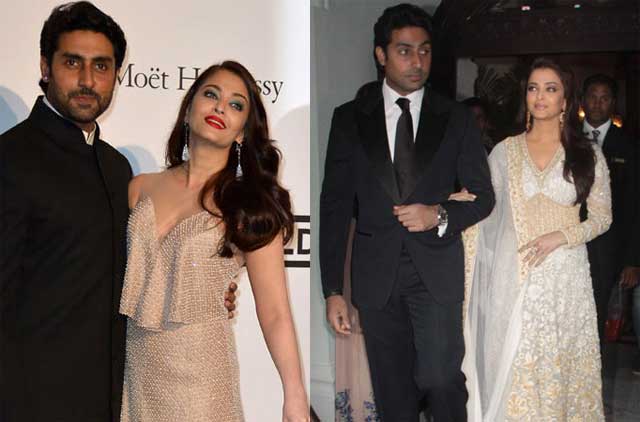 The continued presence of these red carpet regulars has been punctuated by several other Indian actors. In 2013, a landmark year for India at Cannes, actresses Vidya Balan and Nandita Das served on the jury, and Amitabh Bachchan delivered the opening address at the film festival - in Hindi, no less. Deepika Padukone has been at Cannes, so has Kamal Haasan. Last year, Uday Chopra was in the audience as
Grace of Monaco
, the Nicole Kidman film he produced, opened the festival. Jackky Bhagnani was an unexpected presence, representing his film
Youngistaan
. Filmmaker Anurag Kashyap's films
Gangs of Wasseypur
and
Ugly
have played to house full audiences; Dibakar Banerjee-produced film
Titli
, directed by Kanu Behl, was screened in the Un Certain Regard section last year.
The Lunchbox, Miss Lovely, Udaan
and Vasan Bala's
Peddlers
have all made it to the Cannes line-up in recent years. Bollywood made a grand debut in 2002 with Sanjay Leela Bhansali's
Devdas
being screened at the festival. The film's star Aishwarya was a jury member the same year.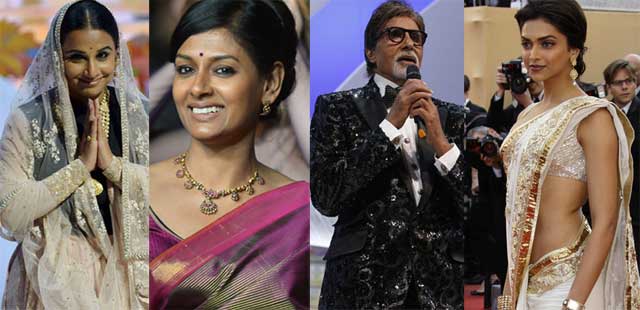 Historically, Indian films have been well-received at Cannes although the prizes have dropped off since the Nineties. In 1946, Chetan Anand's acclaimed
Neecha Nagar
shared the top prize (now known as the Palme d'Or) with David Lean's
Brief Encounters
. In 1952, V Shantaram's
Amar Bhoopali
won the award for Best Sound Recording. Bimal Roy's socio-economic tour de force
Do Bigha Zameen
won the Prix Internationale in 1954. The next year, his
Biraj Bahu
and the Raj Kapoor-produced
Boot Polish
were both screened in competition. Baby Naaz won a special award for her performance in
Boot Polish
. In 1956, Satyajit Ray's
Pather Panchali
put India on the world cinema map for good with the prize for Best Human Document. In 1957, Rajbans Khanna's documentary on Buddha scored a jury prize. In 1983's Mrinal Sen's
Kharij
won a jury prize and in 1988, Mira Nair's
Salaam Bombay!
Took home both the Camera d'Or and the Audience Prize. Shaji N Karun's Piravi received a special mention the next year. Murali Nair's Marana Simhasanam's Camera d'Or in 1999 was the last Indian film to bring home an award from Cannes.
This year, a clutch of Indian films will be screened at Cannes -
Miyan Kal Aana
, produced by Nawazuddin Siddiqui and directed by his brother Shamas; Neeraj Ghaywan's
Masaan
and Gurvnder Singh's
Chauthi Koot
will compete in Un Certain Regard.
Amy
, a docu-film about Amy Winehouse will receive a midnight screening - the British-made film is directed by Asif Kapadia, of Indian origin.