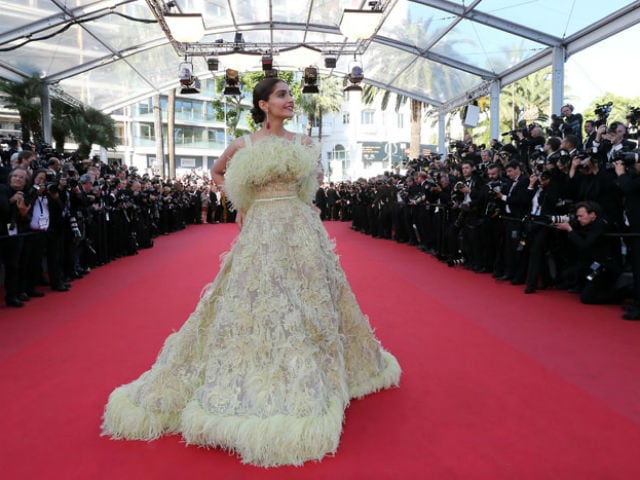 Highlights
Sonam Kapoor said that she doesn't 'pay heed to negativity.'
Sonam said that she has not decided on her outfits yet for this year.
Sonam's outfit will have 'some Indian element.'
New Delhi:
Unfazed by the criticism which she received for her last year's Cannes red carpet outing, actress Sonam Kapoor said that she is not bothered about the scrutiny of fashion critics and is rather excited about her appearance at the festival next week.
Sonam's
Elie Saab dress at the Cannes last year became the centre of memes on the social media, whereas, her other appearances were appreciated.
"I concentrate on the positive always. I don't pay heed to negativity or criticism surrounding my appearance. I am pretty excited about my sixth outing at Cannes and I am looking forward to it. I am always excited to go to a platform, which is so international," Sonam told PTI.
Sonam, 30, said that though she has not decided on her outfits yet, she will surely showcase ethnic elements in her styling.
"I haven't thought about the dresses yet. I am going to do the fittings next week. It depends on what I am trying to figure out with it but I would always have some Indian element," said Sonam.
Sonam will be making her red carpet appearance on May 16 and 17 apart from Aishwarya Rai Bachchan, who celebrates 15 years at the festival this year.
Katrina Kaif, who made her debut at Cannes last year, will miss the gala event as the actress is busy with her "prior commitments."
Besides the coveted outings, Sonam wishes to watch some international films and meet some renowned cinema personalities at the festival.
"I would love to watch a couple of films. It's a place where you get to see many films all over the world. But my schedule depends on the time I have. If I have time, I would definitely watch the film I walk for. I would love to meet celebrities, who would help me to evolve and give a different perspective of life," said Sonam.
Sonam was last seen in
Neerja
which released in February.