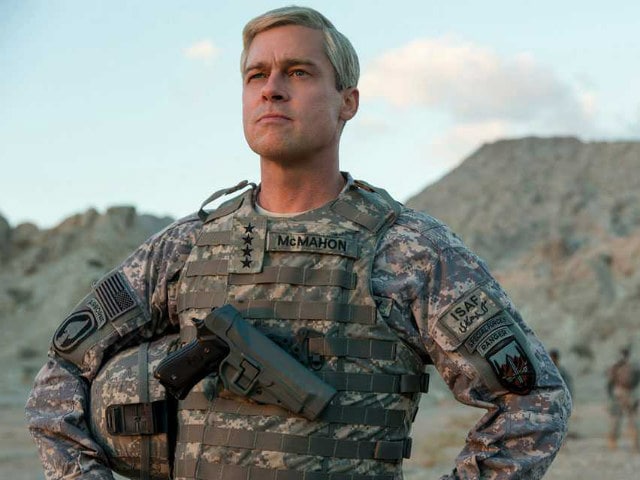 Highlights
Brad Pitt is in Mumbai for the promotion of upcoming film War Machine
SRK and Brad Pitt will discuss cinema and their passion for acting
It will be a closed-door event in Mumbai
Mumbai:
Hollywood superstar Brad Pitt
is in Mumbai for the promotion of his upcoming film
War Machine
, produced by Netflix. The 53-year-old actor will be sharing the stage with
Bollywood superstar Shah Rukh Khan
later on Wednesday. Brad Pitt and Shah Rukh Khan will discuss cinema and their passion for acting at a closed-door event. The Hollywood actor will also make a quick appearance at a special screening of his new film,
War Machine
, at a theatre in Mumbai.
War Machine
is based on true events and also co-stars actors like Ben Kingsley, Tilda Swinton, Anthony Michael Hall and Topher Grace.
In
War Machine
, Brad Pitt plays the role of four-star US general Glenn McMahon. The film, made under the stewardship of
Animal Kingdom
director David Michod, tracks his journey as he is given the task of ending the war in Afghanistan. The film is inspired by Michael Hastings' book
The Operators: The Wild & Terrifying Inside Story of America's War in Afghanistan
.
War Machine
follows the rise and fall of General Glen McMahon and shows how a Rolling Stone led to his fall.
By being a part of this ambitious $60 million project,
Brad Pitt is backing Netflix
and promoting it as a key player in the movie business. Along with the film's lead actor, director David Michod and producers Jeremy Kleiner and Dede Gardner are also in Mumbai.
War Machine
streams on Netflix from May 26.