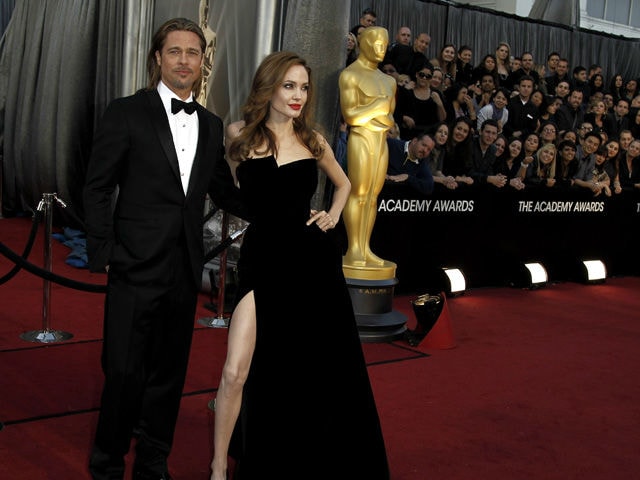 Washington:
It's hard now to
remember a time before Brangelina
, or to even think of them as they were then, circa 2004. He was already a pretty big deal, and so was she: two solid A-listers occupying equal but separate swaths of the celebrity stratosphere.
Then
Brad Pitt and Angelina Jolie
got together, and something happened. The tabloids lost their minds, obviously - and they each, magically, became bigger, better, more elevated versions of their famous-person selves.
Pitt, who had coasted through so many films on his pretty-boy charm, became a formidable producer, lauded for his mature, nuanced acting chops. Jolie, an exotic beauty notorious for her wild-child antics and lucrative action flicks, evolved into one of the world's most respected advocates for humanitarian causes, a tireless visitor to refugee camps and the Council on Foreign Relations.
Katharine Hepburn once explained the on-screen chemistry of Fred Astaire and Ginger Rogers like this: "He gives her class and she gives him sex appeal." It's hard to say exactly what it was that Pitt and Jolie gave each other to create this magical, image-changing gravitas.
Except, hmmm. Maybe the six kids? Who else in Hollywood had that?
When it was announced Tuesday that Jolie had filed for divorce from Pitt, the mind first went to that gorgeous, multiethnic brood. "What matters most now is the well-being of our kids,"
Pitt said in the statement
, which echoed so many other celebrity divorce announcements - a sort of ordinary ending to a relationship that had seemed anything but.
It didn't start well, by traditional PR standards. Pitt was married when he met Jolie on the set of the 2005 romantic thriller
Mr and Mrs Smith
. They denied the whispers, which grew only louder when
he split from wholesome sitcom star Jennifer Aniston
. Months followed of more denials and awkward distances kept on red carpets. The word "homewrecker" was thrown around a lot. The optics weren't great.
In hindsight, the savvy, gradual rollout of their relationship seems like the start of greater image makeovers to come. They were photographed together on a beach in Kenya, but paparazzi images of the new couple were anything but salacious: They were playing with her young son, Maddox, whom she had adopted from Cambodia in 2002. When she adopted daughter Zahara from Ethiopia months later, it was made public that Pitt accompanied her. Before they even acknowledged their affair, they were already seen as a family.
And then, the Jolie-Pitts were off and running. In 2006, she gave birth to their daughter Shiloh. Then they adopted Pax from Vietnam. Then they had the twins, Knox and Vivienne. When they finally got around to marriage, in 2014, it seemed like an afterthought. They said they did it for the kids.
Children tend to complicate one's career. But in the case of Pitt and Jolie, a growing family seemed to go hand in hand with their interest in philanthropic and advocacy work, and with their evolving screen roles.
Jolie's vixen persona was quickly supplanted by an earth-mother image. She traveled to Darfur and Kabul to call attention to the plight of people displaced by conflict; she created a wildlife reserve in Cambodia; she funded a girls' school in Kenya; she lectured at the London School of Economics. She continued to cash big checks for blockbusters such as
Salt
and
Wanted
, but she also moved into directing - a small, indie film about the war in Sarajevo, followed by a big prestige flick, the World War II drama
Unbroken
. She largely drew a curtain around her private life but went public with her cancer scare in a pair of New York Times op-eds to draw attention to preventive testing and surgery.
Pitt, too, became something like the best version of himself. Behind the scenes, he produced Oscar winners
The Departed
and
12 Years a Slave
, as well as such socially relevant contenders as
Selma
and
The Big Short
. And after decades stuck in Sexiest Man Alive mode, he graduated into weathered, wisdom-dispensing roles in
Moneyball
and
Tree of Life
- characters perhaps only a dad could credibly play.
Now, unexpectedly, their relationship is ending the way it started, amid tabloid accusations and uncomfortable scrutiny - more than they've had in a while, anyway. Recently, it seemed as though the biggest stars in the world had faded a bit. We just didn't see as much of the Jolie-Pitts as we once did. Had
they pulled away from the spotlight
- protecting their now-adolescent children, or perhaps working uncomfortably through their own issues? Or had we just stopped paying as much attention?
Last year, Jolie directed her third feature film - this time,
starring herself and her husband
. In
By the Sea
, they played an unhappily married couple drifting further and further apart during an extended beach vacation. No one went to see it.
©2016, The Washington Post
(This story has not been edited by NDTV staff and is auto-generated from a syndicated feed.)