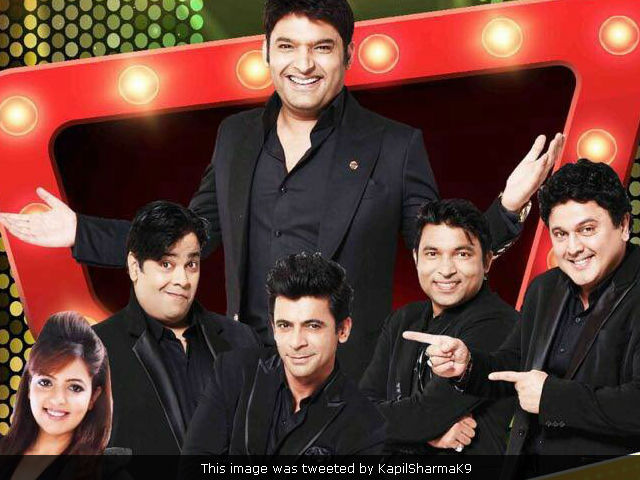 New Delhi:
Each time I try and visualise the mid-air brawl between Kapil Sharma and team, I why wonder why there is no video (or even audio) of it. I find it hard to believe that no one recorded this fight on their mobile phone, that there's only an eye-witness' account of it. After all, the
tamasha
must have gone on for some time. It started with abusing, there was allegedly a shoe thrown, and a lot of slapping ...and no one made a video of it? There is an audio recording of even SRK's notorious Wankhede Stadium outburst. Very baffling.
So in the absence of any evidence, it's all hearsay - and theories. There are apologies and Facebook/Twitter posts, but neither of the parties are confirming anything, whatever they disclose is vaguely worded.
Sunil Grover is
moving on and planning gigs
- Kiku Sharda is part of a live show in Delhi as he is of
The Kapil Sharma Show
. Other supporting cast members of the brawl are also not speaking.
If you've been living under a rock or unconscious, here's a primer: On their way back from live shows in Melbourne and Sydney, Kapil Sharma allegedly abused (verbally and physically) Sunil Grover who plays Dr Mashoor Gulati and Rinku Bhabhi on
The Kapil Sharma Show
. Shoes were apparently thrown around by Kapil under the influence of alcohol (he emptied a full bottle of scotch aboard an Air India flight back), he was enraged that the team had started having food before him. All this is attributed to sources. Hindustan Times has quoted an eye witness but no one from the team, neither the protagonist or the antagonist, have shared details on any social network they have been using to apologise and comment.
Chandan Prabhakar, Kapil Sharma's childhood friend who was also part of the contingent flying back and reportedly tried calming Kapil down, has gone underground as has Kapil Sharma himself. No Twitter post since the
apology
. Reports suggest he is in Bikaner, filming for
Firangi
, his second feature and keeping a low profile.
There does seem to be unanimity on some stuff: Kapil has become full of himself, success has gone to his head, he's drunk on his massive popularity, that he is drunk, period! Reports of
Kapil's alcoholic rumblings
are all over the place. There's also a parallel love track ...48 hours before the fight made headlines, he posted a picture of his girlfriend for the very first time on Twitter/Facebook. There's been lots of interest and speculation about his love life. The man is 35, and the only woman other than his constant companion - his mother, guys! - who is written about in Kapil's context is his producer Preeti Simoes. She is supposedly so upset with him going public about the girlfriend that she has unfollowed him and subsequently deactivated her Twitter account.
Toh iss story mein emotion hai, tragedy hai aur drama hai
...makes for a great blockbuster!
Makes me very sad. Kapil Sharma is the rags-to-riches story that inspired many, even cynics. Boy from small-town Amritsar comes to Mumbai to participate in a comic reality show, wins it for a record 6 seasons, starts his own show which hits it out of the stadium in no time at all, and before you know it, Kapil Sharma becomes the first TV actor (Smriti Irani and Sakshi Tanwar were guests on an episode in 2005, but they spoke English and acted in serials made by Karan's friend Ekta Kapoor) to be on
Koffee with Karan
, a space reserved for Bollywood royalty and children of Bollywood royalty. Beyond the legend, the man himself is supposedly genuine talent, hardworking, a team player (yes, that too!), generous, emotional. So why did he behave like a feudal lord, screaming at his subjects for eating before him?
Could be the influence of alcohol, says Simar Jyot, his old colleague and producer from the days of his first Punjabi comedy show
Hasde Hasande Ravo
. She rubbishes the accusations of megalomania. (The megalomaniac differs from the narcissist by the fact that he wishes to be powerful rather than charming, and seeks to be feared rather than loved.) She says he may be under a lot of pressure to reinvent, like all creative people. Maybe he is exhausted doing double-shifts on TV/shooting his feature film. He's possibly insecure and intimidated by others' talent. It could just be a momentary lapse of judgement...to err is human and Kapil has never claimed to be anyone else, his love for animals apart.
But Tellyland has decided to pull down its superstar. He is late on sets, unprofessional, his time's up, is the judgement.
I am not so sure. Kapil will rise again, can't be kept down for long. Of all the theories that I have read after this mid-air episode, only one makes sense to me: it's an April Fool's prank! As I write, Lehren TV claims Sunil Grover is back on the sets of
The Kapil Sharma Show
. After all, Saturday is the first of April and they have an episode to air. The show goes on.
(Sonal Joshi is a consultant with NDTV 24x7)
Disclaimer: The opinions expressed within this article are the personal opinions of the author. The facts and opinions appearing in the article do not reflect the views of NDTV and NDTV does not assume any responsibility or liability for the same.