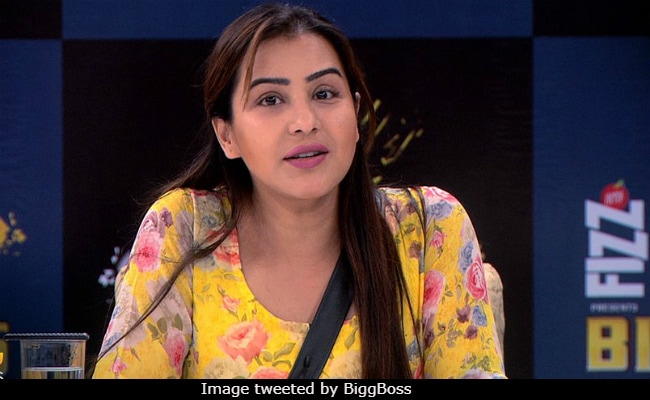 Highlights
"Fans are supporting me because they can see the hard work," said Shilpa
"I never take my fans for granted," she said
"I want to say that I have no regrets," she added
New Delhi:
There's no doubt that Shilpa Shinde has a huge fan base - she's been nominated a handful number of times but she's always been safe-zoned, all thanks to her crazy fan following. On Monday's episode of
Bigg Boss 11
, Hina Khan,
Vikas Gupta
and Aakash Dadlani teamed up to allege that Shilpa hardly ever participates in any task as she's always in the kitchen. Combating the argument of her co-contestants, Hina said she's perhaps the only contestant in the house who performs well in the tasks as well as on top of her duties in the house. "My fans are supporting me because they can see the hard work. I never take my fans for granted," IANS quoted Shilpa as saying.
"I know others are saying that I do nothing but only kitchen work, but I want to say that I have no regrets working much harder than others because I think I am the only participant who not only participates in tasks but also continue to carry out the responsibility of cooking for people," added Shilpa Shinde, who is best known for having played the role of Angoori Bhabhi in
Bhabi Ji Ghar Par Hai!
.
Hina Khan, who is one of the top five contestants and also has a massive fan base backing her up, said she has a problem with Shilpa being in the kitchen all the while. "When we came here, Salman Sir told us that participating in the task is one of the most important things. But she never participates in anything, especially in the team games. If cooking is the only skill one required to win people's heart, even I could have learnt it before coming to the show," IANS quoted Hina as saying.
Vikas,
whose been fighting with Shilpa on and off
since the show started last year, said he's surprised that fans can only see Shilpa preparing food and not the other housemates working. "Hina cleans the pot of the bathroom, someone is cleaning the pool, and someone is cleaning the floor. We all are taking part in household work as well as in tasks. But it is funny that in an episode of 45 minutes, audiences only get to see that Shilpa is cooking as if we are not doing anything," he said, reported IANS.
However, Shilpa Shinde has a strong supporter inside the house - Puneesh Sharma jumped to her defence and said: "You know what, Shilpa is representing the condition of the housewives in our country. Like the way we always discredit our housewives saying 'They only stay in the kitchen and cook food, they do nothing otherwise'. The fact is, how will you get the energy to do all the tasks if you are not eating good food? Shilpa is silently cooking for us, feeding us to stay energetic so that we can fight."
After the press conference,
Shilpa Shinde indeed broke down
in front of Puneesh and even showed the burns she got on her hands from all the cooking. But during the interactive session, she remained strong and said the reason she's been showered with so much love is because fans are witnessing the "real Shilpa Shinde" and they admire her real life character.
"I have been working in the entertainment industry for the last 15 years. So far, my fans and audience have seen my screen image of the character that I have played in fictional shows. If they loved me on 'Bhabhi Ji Ghar Par Hai!' they loved me for the character. Here in the show, they are getting to know me as my real self Shilpa Shinde. My purpose of coming in the show was that," said Shilpa.
The
Bigg Boss 11
finale is scheduled to take place over the weekend and Shilpa Shinde, Hina Khan, Aakash Dadlani, Vikas Gupta and Puneesh Sharma are currently the top five contestants on the show.
(With IANS inputs)