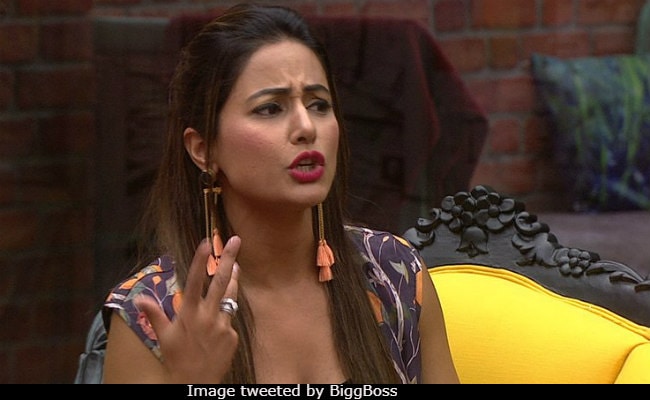 Highlights
It's Puneesh vs Hina Khan in the first captaincy task
Hina has a huge fight with Vikas
Vikas Gupta is not happy with Hina's nomination for captaincy
New Delhi:
Tonight's
Bigg Boss 11 episode
will see Vikas Gupta zero in on another housemate to pick a fight. Bigg Boss announces that of the winning team, Puneesh Sharma and Hina Khan are eligible to battle it out in the final task for captaincy - an announcement that takes the housemates by surprise, particularly Sshivani Durga and the Vikas Gupta. The duo question Hina Khan for not telling others about that she's put her name down. Hina tries to defuse the situation saying there must have been a "misunderstanding" but Vikas is in no mood to calm down. Infuriated, Vikas yells at Hina, addressing her as "hypocrite."
Hina does not want the situation to aggregate and clearly states that she would rather avoid speaking to Vikas. She even declares to give up the captaincy task or intentionally lose if she's not wanted as the first captain of the house. Arshi Khan will also contribute to the heated situation, reiterating what Sshivani and Vikas has to say, prompting Hina Khan to tell Bigg Boss that she's rather not fight for captaincy. "Arshi is not happy with the decision," she tells Bigg Boss.
Watch the housemates turn on @eyeHinaKhan when she gets nominated for captaincy, tonight at 10:30 PM on #BB11. #BBSneakPeekpic.twitter.com/UMkPlcok6L

— COLORS (@ColorsTV) October 12, 2017
Sapna Chaudhary appears to support Hina Khan and assures her saying Arshi cannot call the shots for everyone.
Captaincy nominations ke wajah se Sapna hui pareshaan. Watch her reaction and more, tonight at 10:30 PM on #BB11. pic.twitter.com/3ek3IGoHJb

— Bigg Boss (@BiggBoss) October 12, 2017
However, the
Bigg Boss
contestants had a great time when rapper Akash dropped his new song on the show. Akash is joined by many others in the living room - who also contribute with their own creative inputs - Sshivani Durga showed noticeable enthusiasm on the dance floor.
Don't forget to watch Rapper A-Cash drop his latest song tonight at 10:30 PM at the #BB11 house. pic.twitter.com/4YP1bsLyyC

— COLORS (@ColorsTV) October 12, 2017
Who do you think will become the first captain of the
Bigg Boss 11
house? Tell us in the comments below.
Watch this space for more updates on
Bigg Boss 11
.