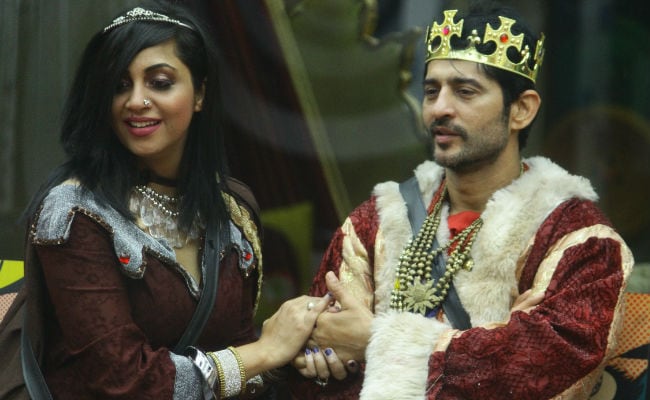 Highlights
Arshi's team won the task and became eligible for captaincy
Sapna successfully irritated Arshi, who requested Bigg Boss to intervene
Bandgi and Puneesh's romance continues
New Delhi:
Every day in Bigg Boss' house starts on a melodious note and soon turns sour. Wednesday's episode was not much different. The contestants of
Bigg Boss 11
woke up to
Suno Sarsurji
and soon the focus was shifted to
padosi
group contestants Mehjabi Siddiqui and Sabyasachi Satpathy, who started their day by gossiping about the other housemates. And as it always happens, breakfast was served with a fresh round of feud between contestants - this time the feuding pair was Arshi Khan and Sapna Chowdhary. Sapna was already upset with Arshi for her autocratic behavior during the luxury budget task 'Raja Rani Ki Kahaani.' Sapna didn't forget or forgive Arshi and their argument continued. Arshi also took a dig at Sapna's profession which infuriated her more.
#Sabyasachi & #ArshiKhan get into a fight at the kitchen counter! How is this going to end? #BB11pic.twitter.com/EQFbk6LOuf

— COLORS (@ColorsTV) October 11, 2017
Sapna Chowdhary took a leaf out of Shilpa Shinde's book and followed Arshi around to irritate her and of course, she was successful. Sapna sang at the top of her voice as she followed Arshi around and in between she also threatened to make matters worse if Arshi retaliated.
Arshi Khan requests Bigg Boss to call her into the confession room after Sapna Choudhary continues to irritate her! #BB11pic.twitter.com/Gjvgl8QYZI

— COLORS (@ColorsTV) October 11, 2017
Simultaneously,
Vikas Gupta's day started on a brighter note
as he found a friend in Luv Tyagi, who was also a
padosi
a few days back. Vikas discussed his sexual preference (which has been mocked by Shilpa Shinde) with Jyoti Kumaari with ease - something which he refused to do when Hina Khan had asked about in Tuesday's episode. Vikas also found a loophole in Luv Tyagi's story.
Also, in one segment of the show, Shilpa Shinde and Luv Tyagi got into a fight based on the
padosi
s' fake story. Shilpa Shinde schooled Luv Tyagi on the inheritance law but her attitude irked Luv Tyagi. Shilpa discussed the fake story with Mehjabi, who kept to her story and played well.
The contestants completed the second part of the 'Raja Rani Ki Kahaani' task tonight. This time Hiten, who played the king, had to decide between one of his two queens - played by Arshi and Shilpa. Hiten was asked to allocate bricks to his favourite queen's team. The task was also linked to the captaincy task as the winning queen's teammates became eligible to participate in the captaincy task.
As a part of the task, Shilpa and Arshi had to impress Hiten. Shilpa impressed Hiten by dancing while Arshi's team put in all their efforts by praising Hiten. Hiten remained unbiased and gave sort of equal opportunities to Arshi and Shilpa's team. The first advantage was given to Arshi and second to Shilpa and when the buzzer rang for the third time, Hiten impressed with Arshi's teamwork and therefore gave them the advantage. Arshi's team won the luxury budget task making them eligible for the captaincy task.
Queen #ShilpaShinde dances for Raja @tentej on Zingaat! Did you like her performance? #BB11pic.twitter.com/Fwf3o9a6jk

— COLORS (@ColorsTV) October 11, 2017
But Hiten failed in the final part of the task and failed to recognize the evil queen (as Bigg Boss had earlier planned with Arshi and Shilpa). It also meant that Hiten was ousted from the race of captaincy while Arshi got the chance.
After the task was completed and the results were announced Mehjabi and Luv discuss their strategy about convincing the other housemates about their fake story.
Bandgi Kalra and Puneesh Sharma's romance continues but with a twist. Puneesh was momentarily upset with Bandagi for her closeness to Luv Tyagi.
Watch this space for more updates on
Bigg Boss 11
.