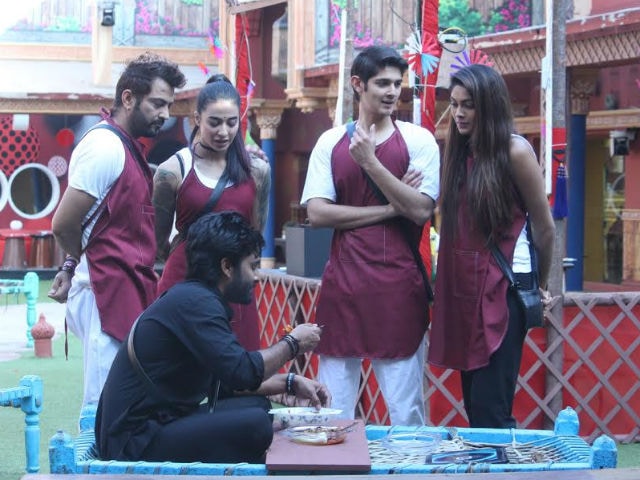 Highlights
The Dhabha task will be introduced
Lopamudra and Bani will fight over ingredients
Manveer and Rohan will get into an argument
New Delhi:
The Day 100 of Bigg Boss 10
will begin with Manu getting emotional about how he is going to miss staying in show after the finale. Manu, Manveer and Bani get together as a gang and make fun of Lopamudra and Rohan. Meanwhile, Bigg Boss will introduce the 'BB
Dhaba
task' wherein the housemates will be divided into two teams- Lopamudra- Rohan and Manu-Bani. Both the teams have to cook some delicious food in a time frame. Manveer will be made the
sanchalak
and the owner of the
dhaba
.The housemates will be asked to dress up like
dhaba
chefs. They can pick up all the required ingredients from the store room every time they get an order.
Arguments, fights and a lot of drama! Take a look at what is cooking in the BB Dhaba! #BB10GrandFinalepic.twitter.com/qjdWMDyx6h

— Bigg Boss (@BiggBoss) January 24, 2017
Both the teams will have to get Manveer to taste their dishes. He will further decide whether to accept or reject the dish. However, the final decision lies with Bigg Boss.
In the first round, the contestants will be asked to prepare a Chinese dish. During the first round, Lopamudra, who fails to collect the ingredient requests Manu to share sauces with her but Manu denies.
Chef @lopa9999 & Chef @bani_j fight over kitchen ingredients in the Dhaaba task! Will this brew another war between them? #BB10GrandFinalepic.twitter.com/3hXV9F69w7

— Bigg Boss (@BiggBoss) January 24, 2017
As the task end buzzer rings, both the teams will display their food items in front of Manveer, who declares Manu and Bani as the winners.
Up next, Bigg boss will ask the teams to prepare an Italian dish. While collecting the ingredients, Lopamudra will forget to pick the pasta packets. However, she blames Bani for doing it. Furthermore, Manveer and Rohan will also get into an argument and lash out at each other. In the evening, popular celebrity chef Zorawar Kalra will enter the house.