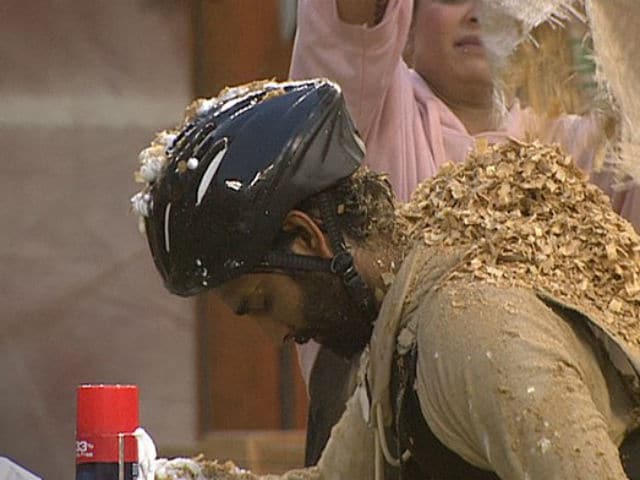 Highlights
Monalisa's husband Vikrant left the show
A special task to save the contestants from nominations was introduced
Manveer survived till the end of the task
New Delhi:
The contestants on Day 95 of
Bigg Boss 10
woke up to the song
Baar Baar Haan Bolo Yaar Haan
. Early in the morning
Vikrant and Monalisa
were seen speaking to each other on their relationship and Vikrant instructed her how she should answer all the questions posed to her. Bigg Boss then called Monalisa and Vikrant in the confession room and informed that Vikrant would have to leave the house now. Vikrant met the housemates and took an exit. Later, Manveer asked Monalisa to confess to him what she is going through and how her marriage has benefited his relationship with his fiancee.
Housemates bid farewell as @MonalisaAntara's husband #VikrantSinghRajpoot leaves the #BiggBoss house! #BB10pic.twitter.com/CUWB1knoBE

— Bigg Boss (@BiggBoss) January 19, 2017
Later in the day, Bigg Boss announced a task, where in, the contestants can
save themselves from the nominations
. This task would determine the top contestants for the finale. During the task, the contestants were divided into two teams. Team Manu had Manveer, Lopamudra and Manu while Team Rohan comprised of Monalisa, Bani and Rohan. Team Manu started with the day's game. Team Rohan had to distract the others so that they could give up. Team Manu was tied by a bungee cord and they had to put their hand on a red circle placed in front of them. They had to stay in that position for the longest time. Whichever team would successfully complete the task, they will get a special power to save themselves.
Both the teams go all out to win this battle, but which team are you supporting in this one? #BB10pic.twitter.com/NUHAJUYvee

— Bigg Boss (@BiggBoss) January 19, 2017
Bani made sure to distract Lopamudra and poured ice water, oil, eggs on her. Manu left the circle first and then Lopamudra. Bani and Lopamudra again got into a spat over the rules of the task. Rohan and Bani made regular attempts to distract Manveer, who survived till the last buzzer went off. Manu broke down upon seeing Manveer struggling hard to strive in the competition. Soon Bigg Boss announced about that the completion of the task. All the housemates congratulated Manveer for his perseverance. In tomorrow's episode, Team Rohan would do the task and Team Manu will be on the opposite side.