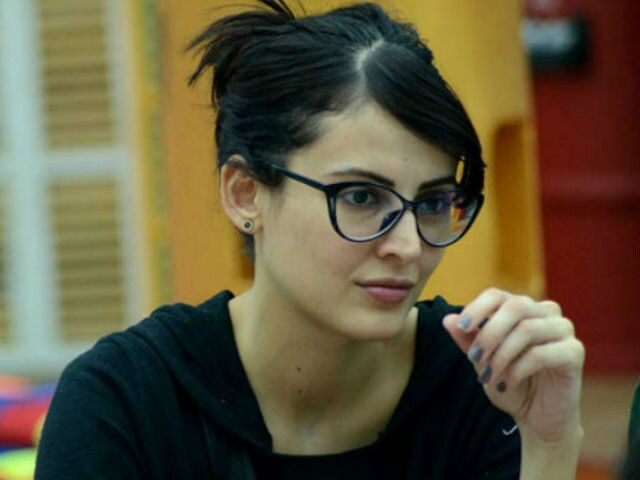 Highlights
Mandana thinks Monalisa is 'all over the place'
Vindu Dara Singh says Karan should be saved for his sheer decency
VJ Andy thinks no one's taking Lokesh Sharma Kumari seriously
New Delhi:
Controversial reality show
Bigg Boss 10
is currently one of the most discussed topic on the Internet. 'Indiawale' fans aside, celebrities who've participated in the show's previous seasons too are tweeting about it and are taking sides. This
week's top newsmakers
- self-styled godman Swami Om along with VJ Bani, Lopamudra Raut, Manveer Gurjar and Manu Punjabi - have divided
Bigg Boss
alumni on Twitter.
Mandana Karimi, who has featured in films like
Kyaa Kool Hain Hum 3
and
Bhaag Johnny
, is supporting Swami Om, who on Wednesday
slut-shamed Monalisa
. A day earlier, Swami Om addressed her as his '
premika
' after which she abused him and Manu too lost his cool. VJ Andy and Vindu Dara Singh on the other hand are looking away from the Swami Om-Monalisa-Manu triangle and identifying the "decent" members in the lot.
Mandana, who was on show's last season has a lot to say:
So much respect for girls like #lokeshsharma & #VJBani who is strong,independent,opinionated,they will support what's wrong&right @BiggBoss

— mandana karimi (@manizhe) November 17, 2016
#ManuPunjabi and #manveergurjar bahut badtameezi kar rahi hain #OmSwami ke sath @BiggBoss

— mandana karimi (@manizhe) November 17, 2016
#MonalisaAntara does she even know what she is doing!?Kabhi yaha kabhi waha All over the place!! #bullies

— mandana karimi (@manizhe) November 17, 2016
VJ Andy from season 7 tweeted:
No one in the @BiggBoss house is taking #lokeshsharma seriously, its great to see her stick up for herself. #BB10

— Andy (@iAmVJAndy) November 17, 2016
Season 3 winner Vindu Dara Singh said:
#BB10@_KaranMehra & @RahulDevRising
need 2b saved for their sheer DECENCY & GENTLEMEN etiquettes

— Vindu Dara Singh (@RealVinduSingh) November 16, 2016
On a different note, Rahul Mahajan (from season 2) has a wild card entry suggestion:
Would you like to see #Sonamgupta in #BB10 as wild card entry?

— Rahul Mahajan (@TheRahulMahajan) November 16, 2016
Who be this Sonam Gupta, you might ask. This mystery woman is currently the Internet's latest obsession, after currency notes bearing the legend 'Sonam Gupta bewafa hain' began circulating. A series of memes sprung into being although the mystery of who Sonam Gupta is and her alleged infidelity is still unsolved.
Currently 12 members inhabit Bigg Boss' house. Lokesh, Manveer, Manu, Nitibha Kaul, Swami Om make up team Indiawale while the members of the celeb team are Gaurav Chopra, Bani, Karan Mehra, Rohan, Lopamudra, Rahul Dev and Monalisa (real name Antara Biswas).
These are possibly the only 12 people in the country who still don't know that
much of their cash is useless
. Deprived of access to the news, these
Bigg Boss
contestants haven't yet heard of Prime Minister Narendra Modi's currency ban and, as they told host Salman Khan over the weekend, they have 'plenty' 500 and 1000 rupee notes.