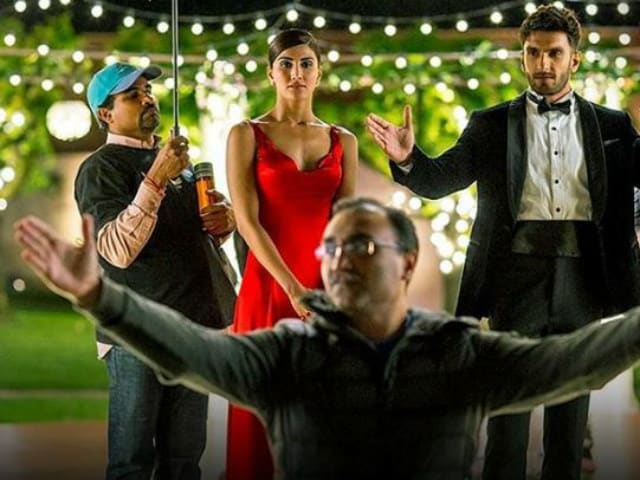 Highlights
'Dharam is someone who I wish I could be,' said Aditya Chopra
Befikre also stars Vaani Kapoor as Shyra
Befikre releases this Friday
New Delhi:
There is no doubt that "
Befikre
" is the apt way to describe Ranveer Singh's character Dharam in the upcoming Aditya Chopra-directed film. The Yash Raj boss, who returns to the director's chair after a hiatus of eight years, said
Dharam and Ranveer are synonymous
. The
Mohabbatein
director, simplified the formula for us. Mr Chopra, who is also the writer of
Befikre
, mentioned that Ranveer was the natural choice for Dharam, and that Ranveer was already the hero of
Befikre
when the film was being written. Aditya Chopra last helmed 2008 film
Rab Ne Bana Di Jodi
, co-starring Shah Rukh Khan and Anushka Sharma.
Befikre
also stars
Vaani Kapoor as Shyra
and hits screens this Friday. Aditya Chopra's Yash Raj Films also produces the movie.
Mr Chopra also said Ranveer aka Dharams' happy-go-lucky nature is infectious. Talking about Dharam, he said: "Dharam is someone who I wish I could be, but I was never carefree enough to be. Dharam is a man who will remain a boy all his life. For Dharam, college never ended, the party never stopped. He is so happy being himself and making everyone around him that it literally becomes his job for life. If this is the character then there cannot be any other actor but Ranveer Singh. Ranveer is Dharam, Dharam is Ranveer. Even before I knew that I'm going to direct this film, I was writing it for Ranveer. He was actually the leading man of
Befikre
even before I was the director of the film."
Mr Chopra made his debut as director with Shah Rukh's
Dilwale Dulhania Le Jayenge
(1995). Then there were
Mohabbatein
(2000) and
Rab Ne Bana Di Jodi
(2008) - both the films were headlined by Shah Rukh. Aditya Chopra made a brutally honest confession about his dependence on Shah Rukh and what made him deviate from his usual choice to rope in Ranveer Singh. "Any director who has worked with Shah Rukh Khan knows that he is a very bad habit that you just cannot get over. He just makes your job so easy that you cannot think of making a film with anyone else ever," said Mr Chopra.
Talking about Befikre with Ranveer as the leading man, he said: "It would have been unfair to put this pressure on Ranveer or for me to take this pressure myself, so I just didn't think of it and dived into this film with as a new adventure with a new leading man."
Read his entire statement here: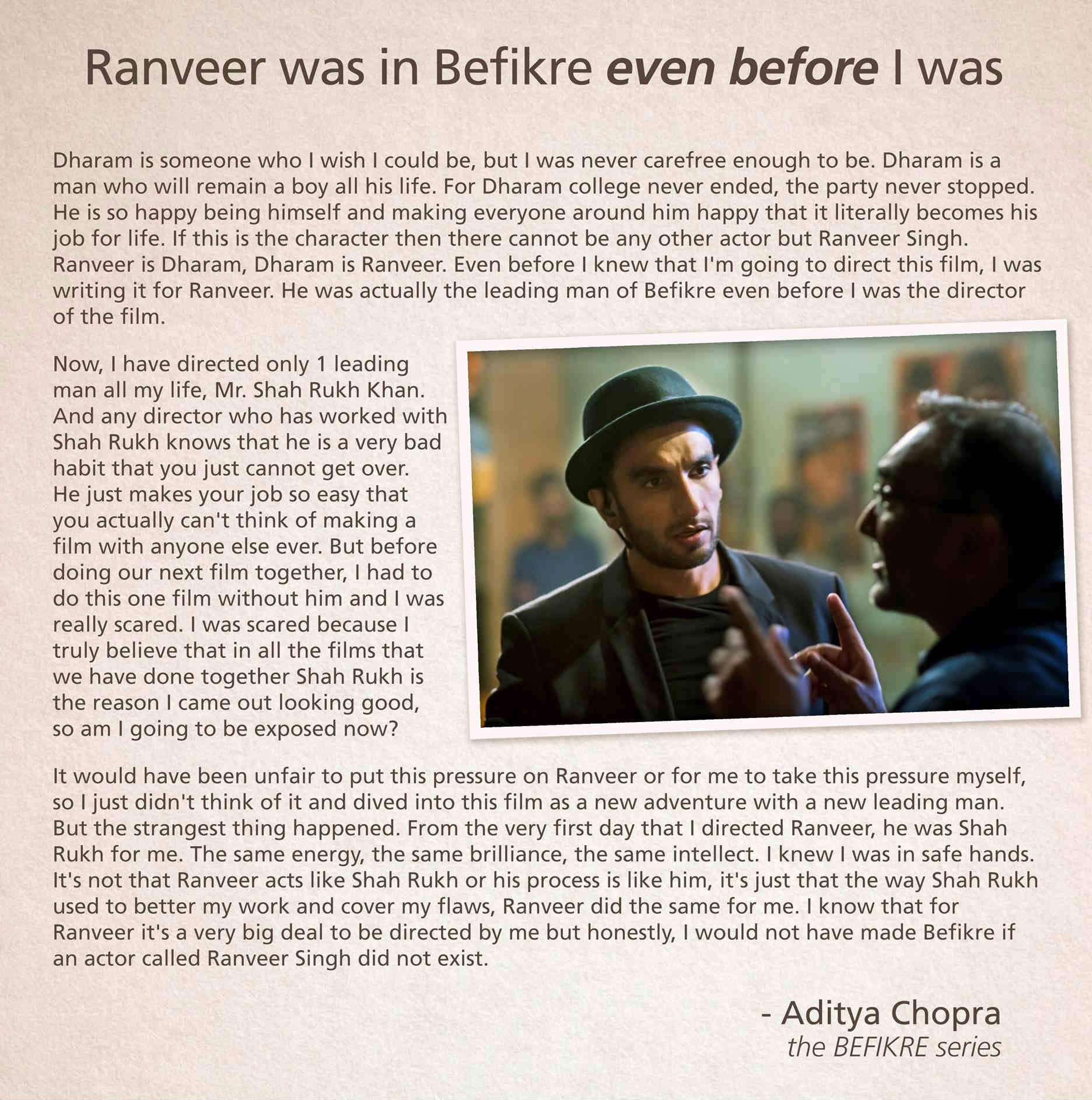 Befikre
tracks the story of Dharam
and Shyra. Delhi-boy Dharam chances upon carefree Shyra in Paris,. Shyra is of Parisian origin. The two make a truce to enjoy their brief meet without the promise of falling in love with each other. In the trailer and the songs released so far, their antics can be spotted almost at every nook and corner of the streets of Paris. Dharam and Shyra's characters are collectively described by Team
Befikre
as "
Those who dare to love.
"
Currently, Ranveer is filming Sanjay Leela Bhansali's Padmavati, co-starring Deepika Padukone and Shahid Kapoor. In Bollywood, Vaani Kpaoor starred in 2013 film
Shuddh Desi Romance
.