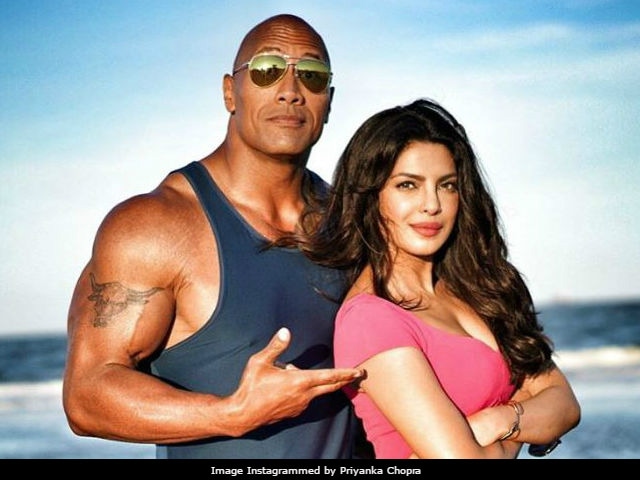 Highlights
Priyanka Chopra plays villainVictoria Leeds in the movie
Pamela Anderson and David Hasselhoff have cameos in Baywatch
The Rock will be seen featuring as Mitch Buchannon
New Delhi:
Priyanka Chopra's Hollywood debut
Baywatch
arrives in India tomorrow, which is a little later than when the film released in the US. Priyanka, who is presently in London for promotional duties for
Baywatch
, has an excited lot of fans waiting to see her share screen space with Dwayne 'The Rock' Johnson. The 34-year-old actress is playing the main antagonist in the big screen adaptation of the popular Nineties TV show
Baywatch
. Priyanka plays the
villainous character Victoria Leeds
while The Rock will be seen featuring as Mitch Buchannon, the character originally played by David Hasselhoff. Mitch Buchannon headlines the lifeguard squad, also comprising Zac Efron, Alexandra Daddario, Kelly Rohrbach and Ilfnesh Hadera.
Baywatch
originals Pamela Anderson and David Hasselhoff will have cameos in the Seth Gordon-directed film.
While
Baywatch
struggles to put up a good show at the US box office, The Rock is all praises for her co-star. "Hard to balance real malevolence with charm and humour. Perfect choice for our Baywatch," he had tweeted for Priyanka earlier. Of her character in the film, Priyanka had revealed in a Twitter chat: "I play
the bombshell of a villain
." Of Dwayne and Zac put together in a movie, she said: "It's Dwayne and Zac together. Just picture them together. Isn't that just funny looking at them together? The film is just really funny. That in itself is fun, now imagine that in slow motion. It's a great, great movie. It doesn't take itself seriously."
Priyanka, who was not present at the special screening of
Baywatch
in India, has already attended promotional events of the film in Berlin and Los Angeles last month. After her tour for
Baywatch
, Priyanka is expected to return to New York, where she has temporarily shifted base to. She is looking forward to the third season of
Quantico
, the popular American TV show she headlines.
While there will be no slo-mo by Priyanka Chopra in the film, the actress is sure to compensate with a lot more swag -
Baywatch style
.