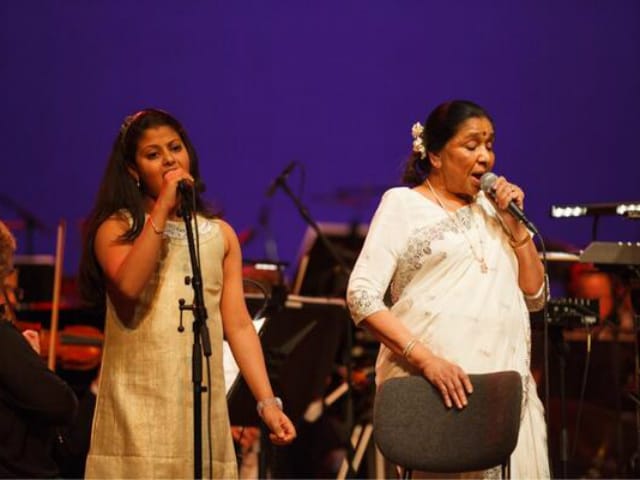 Highlights
Zanai is Asha Bhosle's 14-year-old granddaughter
6 Pack Band is India's first transgender band
6 Pack Band was launched in January 2016
New Delhi:
Music legend Asha Bhosle's 14-year-old granddaughter Zanai will make her singing debut with India's first transgender band 6 Pack Band's fourth song, which is a remake of Marathi hit
Hil Pori Hila
. 6 Pack Band is presented by Y-Films, a division of Yash Raj Films.
Ashaji said: "I feel proud to have sung songs for Yash Chopra
ji
and his entire family for so long, and today, my granddaughter has sung for Y-Films. I can't be happier and I'm glad the relationship between us has remained the same ever since. It is true that in our society, one gender has always been ignored and looked down upon. We all need to take a stand to help them and empower them. And I'm so glad a company like YRF has taken this up and I love the way they're spreading awareness."
Y-Films' boss Ashish Patil said: "The world has always judged the transgender community but in the eyes of children, we are all equal. Zanai comes in as the voice of that generation telling you how to make the world a more welcoming place through literally a foot-stomping song. At the end of Hil Pori Hila's video is a sneak into another humongous collaboration with none other than Hrithik Roshan!"
Here's what's unique about 6 Pack Band's rendition of the Marathi chartbuster - the 'instruments' used are hands, feet, boxes, buckets, bottles, tea packs, cups, spoons and whistles, arranged and conducted by Nishadh Chandra in the format known as 'Stomp.'
The song, composed by Shameer Tandon, also features 25 underprivileged children from the Salaam Bombay Foundation in the video.
6 Pack Band, which comprises of Asha Jagtap, Bhavika Patil, Chandni Suvarnakar, Fida Khan, Komal Jagtap and Ravina Jagtap, will release the new version in Hindi, Marathi and English, with lyrics in Hindi by Varun Likhate. (Also Read:
Here's Shah Rukh Dancing With Members of India's First Transgender Band
)
Launched in January 2016 in collaboration with singer Sonu Nigam, 6-Pack Band have composed and sung original numbers, including their own rendition of Pharrell Williams'
Happy
.
Watch: