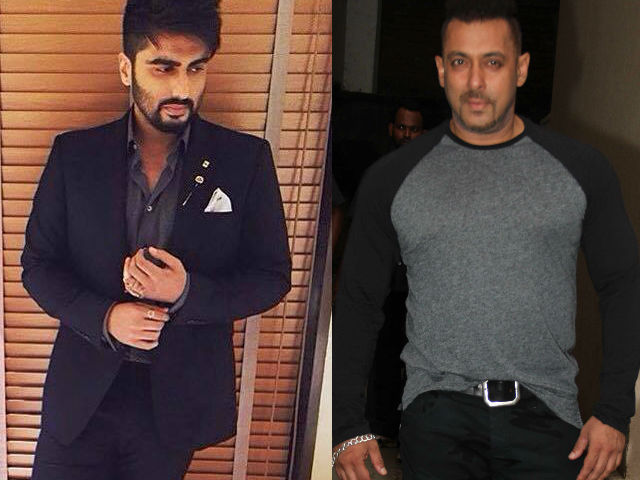 Highlights
That moment doesn't mean that you are like that, said Arjun Kapoor
He said celebs should weigh their words, but hear the other side too
Aamir Khan was the first top celeb to slam Salman's comment
New Delhi:
Actor Arjun Kapoor talked about his mentor Salman Khan's recent controversy where he used an inappropriate simile when describing the grueling shoot of his upcoming Eid release
Sultan
. Arjun said that public figures need to weigh our words and think before speaking, but "let's not jump to conclusions and hear the other side too."
Arjun said told NDTV: "Let's generalize it for a minute rather than talking about one specific incident. Everybody should be aware of what they are saying. Sometimes you don't intent to, but you say something that gets misconstrued. Or you don't realize you said something wrong. Most people can delete it and it will go away, but when you're a public figure it gets retained and is used against you a lot. But that doesn't define you as a person. That moment doesn't mean that you are like that. That's just a mistake."
"Words can't be taken back, so you should be as careful. We need to hear both sides of the story before coming up with conclusions also. So I think somewhere media has become more responsible but I wish they continue getting more and more responsible. I'm not saying to make it a big deal rather to not to jump to conclusions. Always wait for the other person to come up with his or her side of the story also," he added.
On Monday, actor
Aamir Khan
became the first top celeb to slam Salman's "raped woman" analogy and said: "I wasn't present when he made the comment but going by media reports, I feel what he said was unfortunate and rather insensitive"
Last week, Shah Rukh Khan told the press that he could not pass judgement on his
Karan Arjun
. Actress
Kangana Ranaut
described the rape analogy as a "horrible thing to say" but also cautioned against pointing fingers.
Salman Khan recently described the shattering effects of filming the wrestling scenes in
Sultan
in
these terms
: "When I used to walk out of the ring, after the shoot, I used to feel like a raped woman. I couldn't walk straight."
Meanwhile, Arjun, who is shooting for Mohit Suri's
Half Girlfriend
, which is an adaption of Chetan Bhagat's novel of the same name, said that he is Chetan's "superhero." The 31-year-old actor is currently shooting for the film co-staring Shraddha Kapoor in New Delhi. "I always tell Chetan you are my Marvel comic book and I am your superhero, and the way we are going you may just have to cast me in your biopic," he said.
And it seems thanks to Chetan, Arjun gets to visit all the universities in the country.
"Yes. Can you imagine, I am 11th fail, but thanks to playing the hero in adaptations of Chetan's books I get to go to the premiere institutes from IIM-A to St Stephens college. That apart, it's nice to be a part of films Chetan writes about your average Joe and I am like this," he said.
The actor, who gave his voice to the character of Buck in the Hindi dubbed version of the
Ice Age
said, "Buck is like your Bollywood hero, he is larger than life. He is loud and brash. He is the David Dhawan-hero." Also its was but natural for Arjun to weave his uncle Anil Kapoor's
jhakkas
into Buck's character, as well as imitate Bollywood's iconic characters Circuit and Munna Bhai.
So, what's with the current trend among the Bollywood? After Varun dubbed for
Captain America: Civil War
, Sonakshi for
Rio
and Arjun for
Ice Age
, now his
Ishaqzaade
co-star Parineeti is all set to join the "dubbing club" for animated characters too.
"Parineeti too, is it? Well she would not have try too hard she is animated enough, but it's welcoming trend it helps us to experiment and challenge ourselves - 'What can I do with my voice'," said Arjun.v And lastly the actor said, "I'm going to start an online petition please cast me in the sequel to
Mr India
, since the media keeps asking me and only my father can answer this question."v Arjun Kapoor was last seen in R Balki's
Ki and Ka
.
Watch: