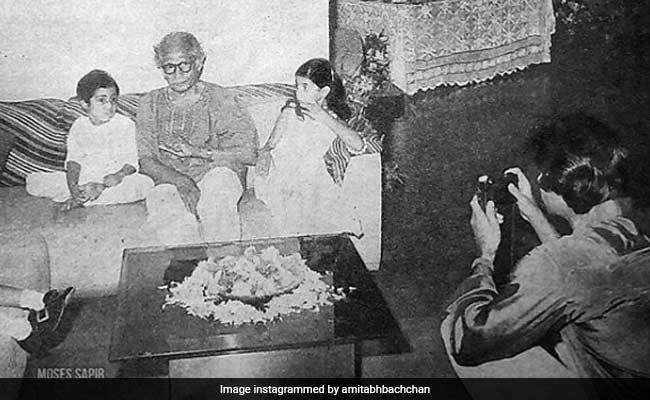 Highlights
-My father's legacy is what I am interested in,- said Big B
Big B had written about legally losing rights on his fathers work
Big B will be next seen in 102 Not Out alongside Rishi Kapoor
New Delhi:
Amitabh Bachchan, the 75-year-old megastar, says that "he has no legacy." In an interview to IANS Mr Amitabh said: "I have no legacy. My father's legacy is what I am interested in, and I shall try always to further it." Amitabh Bachchan is the son of renowned poet Dr Harivansh Rai Bachchan, whose best works include
Himmat Karne Walon Ki Haar Nahi Hoti, Agnipath, Ruke Na Tu
and
Madhushala
. He died on 18 January 2003. The actor said that he enjoys reading his father's work and holds
Madhushala
, which he often recites at public events, rather special. Talking about his memories with his father and how that influences his relationship with son Abhishek, Big B said: "Memories with my father and time spent with him are personal. But, yes lessons learnt from him would certainly be passed on to Abhishek," added Big B.
Describing himself not as a superstar but as the son of Dr Harivansh Rai Bachchan, Big B added: "It is coming on to 50 years in public life... That is as far as I am personally concerned... But I have been in public life from the day I was born. I was always the son of Dr Harivansh Rai Bachchan, eminent poet, litterateur, having public presence far greater than mine," reported IANS.
When asked about how Harivansh Rai Bachchan's "legacy" is being passed on to the younger generations of the Bachchan family, Big B told IANS: "These are family oriented. Each family has their own conduct and behaviour, and they are executed in a manner where the next generation continues the legacy of the past. One prays and hopes that this temperament continues for posterity too."
Earlier this year, the
Big B wrote an angry note over the possibility of losing exclusive copyright
to his late father Harivansh Rai Bachchan's literary works over the stipulation in the copyright law. The Copyright Act, 1957 allows the exclusive rights to the heir for 60 years after the death of the author. Earlier in March, Mr Bachchan had written on his blog: "Written copyright and whatever else in the realm, lives 60 years after the passing with the elements of them that be rightful. Really? So, who designed 60 years? Why 60 why not 61, or why not perpetuity! Inheritors that come as natural heirs be natural right holders of creative copyright...right... but after 60 years it's natural inheritors, after the passing, the heirs become the public at large .. ehh ...?"
Amitabh Bachchan's 102 Not Out, in which he co-stars with Rishi Kapoor
released on Friday. The actor has films like
(with Aamir Khan and Katrina Kaif) and Ayan Mukerji's Brahmastra in the line-up.

(With IANS inputs)