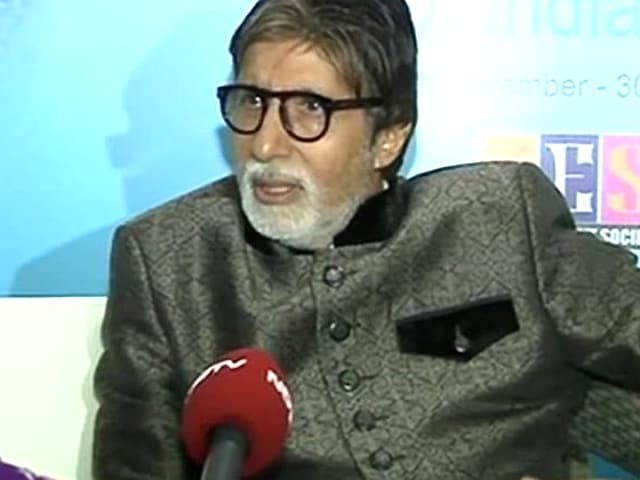 New Delhi:
Bollywood megastar Amitabh Bachchan has returned to the International Film Festival of India (IFFI), which started in Goa on November 20, as a chief guest after a decade.
In an exclusive interview to NDTV's Pooja Talwaar on the sidelines of the film fest, the 72-year-old star talked about his son actor Abhishek's sporty side, his connect with Kolkata and legendary actor Rajinikanth, who was honoured with the Centenary Award for Indian Film Personality of the Year at the gala.
Talking about his return to IFFI, Mr Bachchan said, "It's a great honour to be here and be a part of this significant festival for the country. Cinema has always been. Cinema has always been a love of mine, having spent 45 years in it. It's very gracious of IFFI to call me here."
At the event, Goa was announced as the permanent venue for the future editions of the film festival. Big B said, "I must express my gratitude for finally confirming Goa as the permanent venue of all the future film festivals. I think it is very important for people to know that there is one city, one place where international festivals are held."
At the event, Mr Bachchan presented Rajinikanth with his award. The actors are both friends and co-stars, having worked together in films like
Hum
. In an earlier interview with NDTV, when Rajinikanth was asked about a possible future film with Mr Bachchan, he had ambiguously said "Ask Amitji." (Also Read:
"Ask Mr Bachchan," Says Rajinikanth About Film Plans With Big B
)
So we did. And Big B, much like his friend from the south, refused to commit to another film together. However Big B was all praises for Rajinikanth and said, "Rajini has been a very dear friend apart from being a colleague. We share very personal friendship and family relationships with him. To me he is a wonderful human being and I'm so happy that he is being rewarded at this festival by this recognition. He deserves much more. He is an incredible phenomenon, not just in our country but outside too." (Also Read:
Amitabh Bachchan Presents Rajinikanth With Centenary Award
)
Mr Bachchan, who is currently working on
Piku, Shamitabh
and
Wazir
simultaneously, said that working on three films at a time is a "conservative amount of working." He said, "In the good old days we'd do about 15 films at the same time. But yes it's interesting, as I'm doing television as well. Being in front of the camera has always been a very exciting experience for me, keeps you busy, keeps you waking up in the morning and gives you butterflies in the stomach. These are the sort of things one looks forward to. If there weren't butterflies, if you're not nervous then life would become very mundane." Big B famously shot
Deewar
and
Sholay
, two of his best-known films, at the same time - shooting
Deewar
at night in Mumbai and flying to Bangalore in the mornings for
Sholay
.
Big B, who is an avid blogger, has always kept his fans up-to-date with his film shoots and thoughts. The actor also shared impressive images and anecdotes from his shoot for
Piku
in Kolkata, where he was seen riding a bicycle in the nooks and crannies of the city, filming at iconic locations like the Howrah Bridge and the Press Club, among others.
Mr Bachchan, who lived and worked in Kolkata before making it big as an actor, shared his emotions on returning to the city and commented on what had changed and how it affected him. He said, "I was there in 1962, looking for a job after doing my graduation from the Delhi University. I spent seven years there working as an executive. Ironically, it was the city where I applied for a job in films. There was a contest that was held by Filmfare and I wasn't accepted. I was rejected in the preliminary screening. Then I quit my job and hung around at my home in Delhi till I got the offer for
Saat Hindustani
."
"Going back there and visiting old places, I feel a lot has changed in Kolkata. A lot of development has taken place, but it's always a joy to be in a place where you link your memories of the past," he continued.
Was it fun riding the bicycle? "Yes," he said with a hearty laugh. "There was a lot of co-operation not just from the people but also from the police, they were able to manage and control the crowd. I've seen many interesting places that I had not seen when I was working there."
Apart from films and television, the megastar is often seen accompanying his son, actor Abhishek Bachchan, to sports events. The father-son duo had even visited Brazil during the FIFA World Cup 2014.
Abhishek has shown tremendous effort and enthusiasm in sports like kabaddi and football. The actor owns the Jaipur Pink Panthers team in the first ever kabaddi league and also co-owns Indian Super League football franchise, Chennaiyin FC.
Talking about Abhishek's sports initiative, Big B said, "I'm very happy for him. He started off with kabaddi almost single handedly, and managed the entire promotion of his team and I'm very happy that they won. We never knew it would become such an important sport. Next to the IPL people want to see kabaddi apparently. A sport is a great moment for people from different walks of life to come together. It's a wonderful vocation which brings people together."
And finally talking about Prime Minister Narendra Modi's
Swachh Bharat Abhiyan
, the actor said, "You need to do something in your own environment. If you are keeping your world environment clean then you are passing the message to everyone else."
The 45th edition of IFFI is a 10-day event which will conclude on November 30.
Watch: