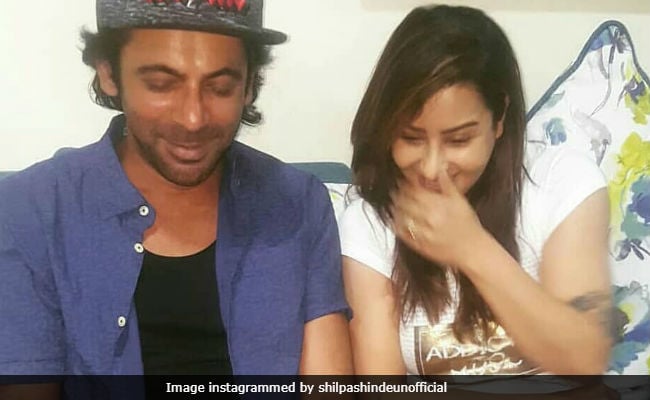 Highlights
Sunil and Shilpa may take comedy to the digital space
They've given their nod for the content but haven't signed up yet
Shilpa Shinde is the winner of Bigg Boss 11
New Delhi:
Sunil Grover recently announced on Twitter that he has associated himself with a very good project and now,
Indian Express
reveals that the Sunil Grover is planning to sign up for a digital show co-starring
Bigg Boss 11
winner Shilpa Shinde. The show will keep up the audience interest by incorporating the upcoming Indian Premier League in its content. "They (show producers) are working on a one-of-a-kind show for the digital world that will bring together cricket and comedy. Sunil and Shilpa will play commentators and discuss the on-going IPL matches. It would be on the lines of extra innings, only it would be much more fun and entertaining. Both Sunil and Shilpa have liked the idea and seem quite excited," a source told
Indian Express
.
The showrunners are currently finalizing the scripts and creatives and will then negotiate salaries with Sunil Grover and Shilpa Shinde, reports
Indian Express
.
After winning
Bigg Boss 11
in January, Shilpa Shinde told news agency IANS that she was interested in working on the small screen. She blamed her tryst with the makers of
Bhabi Ji Ghar Par Hai!
for her disillusionment from the TV industry. She told IANS: "After working for so many years, the way few people of the industry treated me, I am disheartened.
I do not wish to work in the TV industry anymore
." In 2016, Shilpa left the show due to some issues with the makers and had also reportedly filed a sexual harassment complaint against one of the producers.
Sunil Grover's television journey has been quite turbulent too with his public feud with former co-star Kapil Sharma. Kapil is all set for a
new innings on TV with Family Time With Kapil
. Sunil and Kapil re-engaged in a round of Twitter feud over Kapil approaching Sunil Grover for his new show.