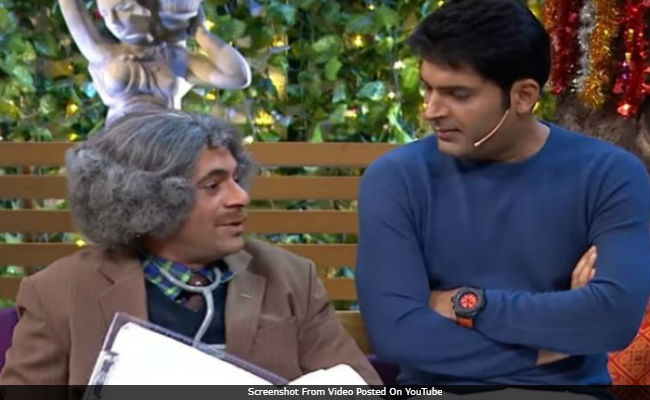 Highlights
The shooting was reportedly cancelled due to a technical glitch
Kapil Sharma was to shoot the launch episode of his new show
Kapil's new show is expected to debut by the month end
New Delhi:
Kapil Sharma has not even launched his new show
Family Time With Kapil Sharma
and he reportedly had to cancel the shoot of an episode. Kapil was reportedly to shoot his debut episode on Monday and meet the press in a launch event of sorts on Tuesday - both of which were called off by the show's team. Now, why is that? Several reports are stating that
Kapil's recent war of words with his ex-colleague Sunil Grover
may be the reason which led to the rescheduling but a statement released by the channel cites the reason to be a technical glitch on the sets. While it was also being reported that
Baaghi 2
co-stars Tiger Shroff and Disha Patani were expected to join on the sets for the cancelled shoot, a source close to the show host told
Indian Express
that it was for the launch episode and no celebrity was scheduled to be part of it.
The comedian
has a reputation for having cancelled shoots
for
The Kapil Sharma Show
, including episodes that were supposed to have guests like Arjun Kapoor, Anil Kapoor, Shah Rukh Khan and Ajay Devgn. "It's so sad that even before the show could hit the tube, people are trying to tarnish Kapil's image. He did have a battle of words with Sunil but that was not the reason for the launch being cancelled," the source told
Indian Express
.
"The newly made sets had a technical issue and so we had to cancel the shoot and couldn't even host the media the next day. We currently do not have a bank of episodes and as soon as the problem got resolved we were back on the sets filming," the source added. Meanwhile, this is how the channel apologised on behalf of the show, as quoted by
Times Of India
: "There has been a technical issue on the sets which cannot be resolved immediately. Hence, today's shoot had to be rescheduled. The press conference has also been rescheduled. We will update you on the revised dates. We apologize for any inconvenience caused."
Just days before, former colleagues and warring comedians Kapil Sharma and Sunil Grover were spotted having a snarky Twitter exchange - Sunil complained to never have been invited to Kapil's new show while the latter said his repeated calls to Sunil went unanswered. The Sunil Grover-Kapil Sharma fight was resumed after Mr Grover tweeted to clarify to a certain section of fans that he's not part of
The Family Show With Kapil Sharma
.
Here's what went down on Twitter:
Bhai aap jaise kuch aur log bhi mujhse same poochte hain. Lekin mujhe iss show ke liye KOI call nahin aaya. Mera phone number bhi same hai.
Intezar kar Ke ab maine kuch aur sign kar liya kal. Aap logon ki duaon se ek achhe project Ke sath juda hoon. Jaldi aapke samne Aata hoon https://t.co/t6n04SxtMK

- Sunil Grover (@WhoSunilGrover) March 16, 2018
Paji I called u more then 100 times n came to ur house to meet u twice .. every time u were out for some show n all .. pls don't spread rumors that I didn't call u.

- KAPIL (@KapilSharmaK9) March 17, 2018
I know the people who r working behind u .. trust me .. u will get nothing .. take care

- KAPIL (@KapilSharmaK9) March 17, 2018
Yes I love him.. but sometimes it hurts u a lot ..when u do a lot of hard work for somebody n he just want fame on ur name .. abhi qyun bola ? Ek saal ke baad ?

- KAPIL (@KapilSharmaK9) March 17, 2018
Yes .. he is lying .. I called him 100 times n sent my people to his home .. even I went to his home to meet him for the show .. but now I will not let anybody take any advantage on my name .. enough is enough

- KAPIL (@KapilSharmaK9) March 17, 2018
Don't want his support .. but at least he should not spread rumors.. m tired of all this.

- KAPIL (@KapilSharmaK9) March 17, 2018
Thanks for ur wishes Deepak ji. But when u r silent n people taking advantage on ur name , then ? Kya kru main ? I am also a human being like u guys .

- KAPIL (@KapilSharmaK9) March 17, 2018
@KapilSharmaK9pic.twitter.com/nUUK1L0TfZ

- Sunil Grover (@WhoSunilGrover) March 18, 2018
The thing is u r smarter then me. u know when n how to play .. n I am a dumb emotional.

- KAPIL (@KapilSharmaK9) March 18, 2018
Kapil Sharma and Sunil Grover had a fall-out after Mr Sharma was accused of physically assaulting and verbally abusing his co-star on a flight back from Australia last year. Sunil, who had previously shared the stage with Kapil in
Comedy Nights With Kapil
quit
The Kapil Sharma Show
, which then witnessed a sharp dip in TRP ratings. After the channel pulled the plug on Kapil's show, he reportedly resorted to alcoholism and was admitted to a rehab.
Kapil Sharma's new show is expected to debut by the end of this month.