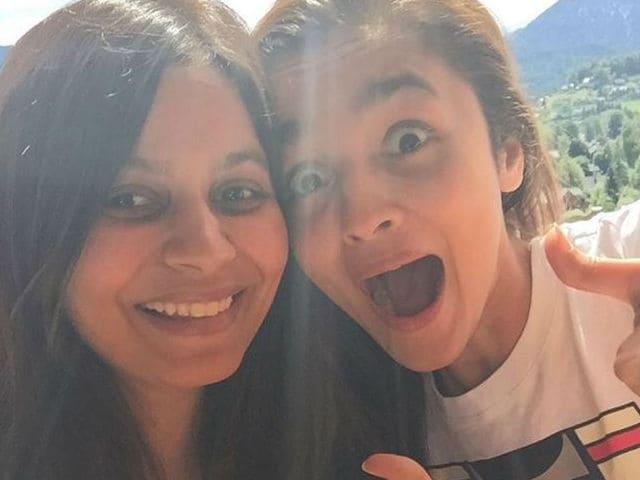 New Delhi:
She's one of Bollywood's most wanted young actors but when Alia Bhatt goes home after a day on set, she discards the identity she's acquired over the last three years for the more familiar one that she's had for the last 22 - Alia the daughter, Alia the sister.
In a piece for
Elle India
titled 'The Girl Behind The Star', elder sister Shaheen Bhatt introduces us to the other Alia, the one she met as a 'swathed and motionless lump' in a hospital room 22 years ago, and captures the transformation from 'Aloo to Alia Bhatt almost overnight.'
She writes that Alia was destined for stardom: '"I want to be a star," a five-year old Alia once proclaimed after a rather spirited performance set to the music of (for the purposes of this story and as dramatic foreshadowing)
Kuch Kuch Hota Hai
. I sat in a corner and rolled my eyes - it was the third time we had watched her dance that day. At the age of five she had her mind made up - she was going to be a star. It's not a decision she ever questioned and that unwavering certainty is the only thing I have ever envied her for. While I went back and forth between vet, astronaut, writer and unemployed millionaire, Alia always staunchly maintained that she was going to act. And act, she did.' (Also Read:
Meet the 'Most Important Person' in Alia Bhatt's Life
)
The other Alia is this one: 'While the face that stares down at me from all those billboards is my sister's, that isn't my sister up there. My sister is the girl who trudges home after a long day of shooting those campaigns to spend time with me because I've been snidely complaining about how I never see her and how busy she is. She's the girl who bursts into tears on a Skype call with her family because she's been away from home for a month. She's the girl who dances goofily to music only she can hear for no reason other than "because she can". She's the girl who makes me laugh so hard I can't breathe.'
For her part, Alia Instagrammed a part of Shaheen's piece - the rest of which appears in the magazine's December issue - with an emotional accompanying message: "I think this is the first time I've cried reading a write up of myself."
Alia and Shaheen Bhatt are the daughters of filmmaker Mahesh Bhatt and his actress wife Soni Razdan.
Alia was last seen in
Shaandaar
and has
Udta Punjab
,
Kapoor And Sons
,
Shuddhi
and an untitled film with Shah Rukh Khan in the works.