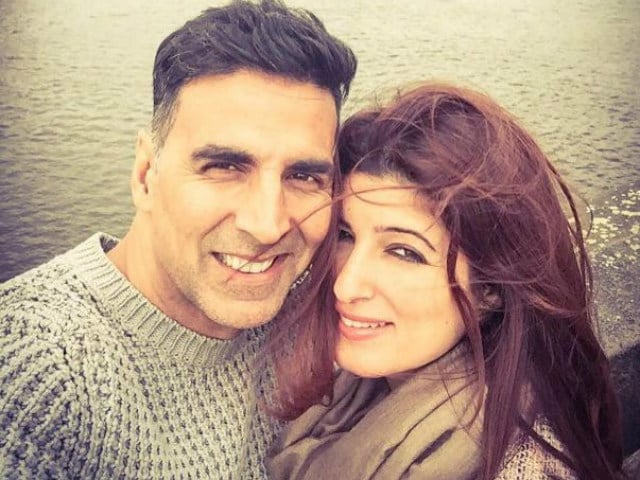 Highlights
'Time for me to keep quiet at home now,' Akshay Kumar tweeted
Akshay Kumar, 48, and Twinkle Khanna, 42, married in 2001
Mrs Funnybones: She's Just Like You and a Lot Like Me released in August
New Delhi:
Things will be changing in the Kumar household, as this Twitter conversation between celeb couple Akshay Kumar and Twinkle Khanna shows.
Their Twitter exchanges are always a delight
- this was no exception.
In a tweet, Akshay congratulated Twinkle for having sold over one lakh copies of her first book, making her India's highest-selling female writer of 2015. Having done so, he also highlighted how it will lead to a change in his behaviour at home. Twinkle's
Mrs Funnybones: She's Just Like You and a Lot Like Me
released in August last year.
Twinkle always has a reply. She really lives up to her pseudonym - Mrs Funnybones. Every. Single. Time.
Laugh away:
Congrats 2 d highest selling debut author & highest selling female author of 2015!Time 4 me 2 keep quiet at home now https://t.co/gJvCHOk38I

— Akshay Kumar (@akshaykumar) August 18, 2016
And hopefully stop disturbing me when I am at my desk by asking me to look for socks,phones or the missing mudgal:) https://t.co/Qu6nRslxkc

— Twinkle Khanna (@mrsfunnybones) August 18, 2016
Twinkle also Instagrammed a glimpse of her 'rakhi present':
Also, she gets the prize for funniest Raksha Bandhan tweet:
Incase the usual 53 members per family didn't seem enough we decided to add a few more, by inventing the ubiquitous 'Rakhi Brother' :)

— Twinkle Khanna (@mrsfunnybones) August 18, 2016
Akshay Kumar, 48, and Twinkle Khanna, 42, married in 2001 and are parents to son Aarav and daughter Nitara. Akshay's new film
Rustom
, co-starring Ileana D'Cruz and Esha Gupta, hit screens on August 12.