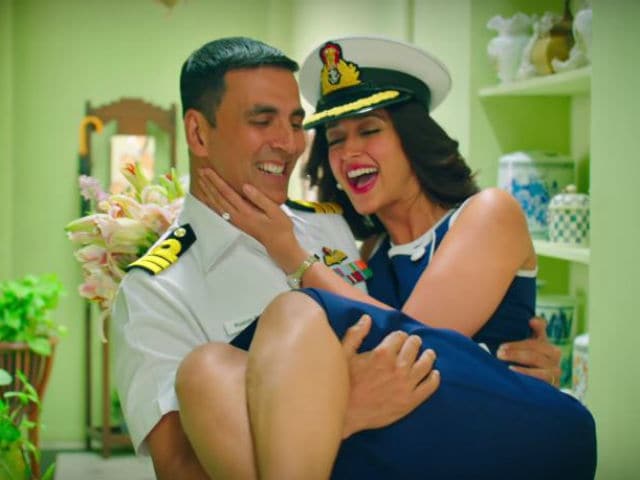 Highlights
Rustom Tralier was applauded for thrilling elements
Actors Hrithik, Ajay, Arjun, Ayushmann praised the trailer
The film will be hit the screens on August 12
Mumbai:
Bollywood celebrities have applauded the trailer of
Rustom
for its thrilling elements and congratulated actor Akshay Kumar for his 'pitch perfect' form on Twitter on Thursday.
Actor Hrithik Roshan, whose
Mohenjo Daro
is set to clash with
Rustom
on the box office on August 12, tweeted:
Congrats @akshaykumar . Loved the #rustom trailer. Good choices maketh d man. I'm sure u agree @mrsfunnybones :) God bless

— Hrithik Roshan (@iHrithik) June 30, 2016
The trailer made actor Ajay Devgn take a second look at it, while filmmaker Karan Johar found it "supremely intriguing".
After a long time, saw a trailer that made me get up and take a 2nd look.@akshaykumar#RustomTrailer

— Ajay Devgn (@ajaydevgn) June 30, 2016
The #RustomTrailer is supremely intriguing....@akshaykumar in pitch perfect form....https://t.co/3F7ZozeuqT

— Karan Johar (@karanjohar) June 30, 2016
The over three minute-long trailer shows Akshay clad in a crisp white uniform, sporting a moustache, while actress Ileana D'Cruz, as Akshay's love interest in the film, shines in bold coloured lipsticks and a vintage look.
Here's what the celebrities had to say:
True story. Wow. Brill stuff paaji. https://t.co/ZPFEBBEd5K

— Ayushmann Khurrana (@ayushmannk) June 30, 2016
Loved the trailer ! Gripping premise with a different setting...true stories make for good storytelling @akshaykumarhttps://t.co/8ROila0URB

— Arjun Kapoor (@arjunk26) June 30, 2016
Loved d trailer. Your journey as an actor is getting more & more interesting. More power to you my friend. Jai Ho.:) https://t.co/9y1PX2XrX5

— Anupam Kher (@AnupamPkher) June 30, 2016
Purple indeed! This looks fantastic @akshaykumar#RustomTrailer looking forward to the #Moviehttps://t.co/V7vqOmxjLx

— Purab Kohli (@Purab_Kohli) June 30, 2016
#Rustom trailer - gritty, intriguing & impressive. Nice to see @akshaykumar in a stoic character. Looking forward.All the best team #Rustom

— Madhur Bhandarkar (@imbhandarkar) June 30, 2016
Well I completely agree!! Awesome trailer and very intriguing!! @akshaykumar can't wait for #Rustomhttps://t.co/q7DoZKjz5K

— Raj Kundra (@TheRajKundra) June 30, 2016
So loved the #RustomTrailer@kriarj congrats! @akshaykumar uve got us hooked once again! https://t.co/9ezhqBJX26

— Tanishaa Mukerji (@TanishaaMukerji) June 30, 2016
I'm neither surprised nor doubtful that #RustomTrailer is excellent!

(Except for the headline, this story has not been edited by NDTV staff and is published from a syndicated feed.)