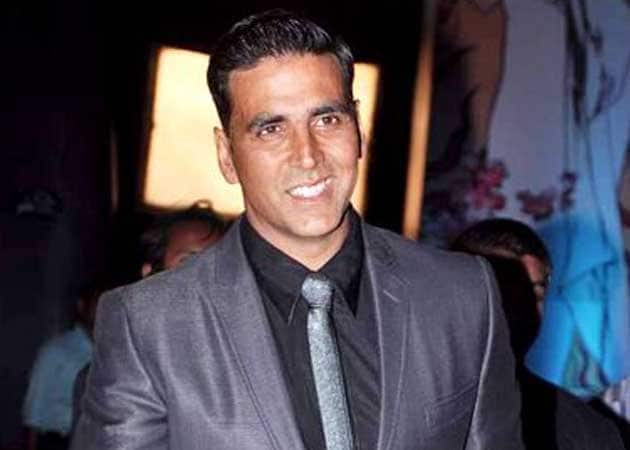 Highlights
Actor Akshay Kumar is elated with the response to his recently released film Rowdy Rathore and insists that he would continue doing movies of all genres.
Akshay Kumar had began his acting career in the 1990s through action films like Khiladi, Waqt Humara Hai, Mohra, Suhaag, Elaan and Khiladiyo Ka Khiladi.
Later, he took a break to star in romantic films, comedy and drama movies and gave hits like Dil Toh Pagal Hai, Dhadkan, Hera Pheri, Mujhse Shaadi Karogi, Garam Masala, Hey Babyy, Welcome, Singh is Kinng, Housefull, Ek Rishta and Waqt respectively.
"When I used to do action movies earlier...everyone used to say I am doing a lot of action movies. These are nothing but mood swings of people and even audience also has mood swings. What I have learnt is one should do everything from comedy to action, from romantic to negative roles. There should be balance in everything," Akshay said.
Directed by Prabhu Deva, Rowdy Rathore, an action film features Akshay and Sonakshi Sinha in the lead.
(Pics: Rowdy Akshay, Sonakshi meet the press )
"When we had gone to a few cinema houses we had seen people dancing in theatres, whistling and having fun...and it feels great to see this kind of response. I heard that in Rajasthan, there are about eight lakh Rajput Rathore, dressed in traditional avatar, are all set to watch the film together," Akshay said.
"It is a big thing for me. Even if I don't get award it's ok, but it is this reward that makes me happy," he said.
Rowdy Rathore has had a compelling start. The film has reportedly earned Rs 15.10 crore on the opening day, making it the third biggest opening of all times after Agneepath and Bodyguard.
When asked about the one thing that clicked with the audience Akshay says, "May be the story line. After all, it is a remake film from South and it is surprising that people are liking the film. The amazing part is that in Chennai and Hyderabad, it is doing a good business. It is surprising that people want to see the same film in different languages. It is the same film after all."
(Read: Want to see raw action, watch Rowdy Rathore: Akshay )
Mumbai:
Actor Akshay Kumar is elated with the response to his recently released film
Rowdy Rathore
andinsists that he would continue doing movies of all genres.
Akshay Kumar had began his acting career in the 1990s through action films like
Khiladi
,
Waqt Humara Hai
,
Mohra
,
Suhaag
,
Elaan
and
Khiladiyo Ka Khiladi
.
Later, he took a break to star in romantic films, comedy and drama movies and gave hits like
Dil Toh Pagal Hai
,
Dhadkan
,
Hera Pheri
,
Mujhse Shaadi Karogi
,
Garam Masala
,
Hey Babyy
,
Welcome
,
Singh is Kinng
,
Housefull
,
Ek Rishta
and
Waqt
respectively.
"When I used to do action movies earlier...everyone used to say I am doing a lot of action movies. These arenothing but mood swings of people and even audience also has mood swings. What I have learnt is one should do everythingfrom comedy to action, from romantic to negative roles. There should be balance in everything," Akshay said.
Directed by Prabhu Deva,
Rowdy Rathore
, an action film features Akshay and Sonakshi Sinha in the lead.
(
Pics: Rowdy Akshay, Sonakshi meet the press
)
"When we had gone to a few cinema houses we had seen people dancing in theatres, whistling and having fun...and itfeels great to see this kind of response. I heard that in Rajasthan, there are about eight lakh Rajput Rathore, dressedin traditional avatar, are all set to watch the film together," Akshay said.
"It is a big thing for me. Even if I don't get award it's ok, but it is this reward that makes me happy," he said.
Rowdy Rathore
has had a compelling start. The film has reportedly earned Rs 15.10 crore on the opening day,making it the third biggest opening of all times after
Agneepath
and
Bodyguard
.
When asked about the one thing that clicked with the audience Akshay says, "May be the story line. After all, it isa remake film from South and it is surprising that people are liking the film. The amazing part is that in Chennai andHyderabad, it is doing a good business. It is surprising that people want to see the same film in different languages. It isthe same film after all."
(
Read: Want to see raw action, watch Rowdy Rathore: Akshay
)