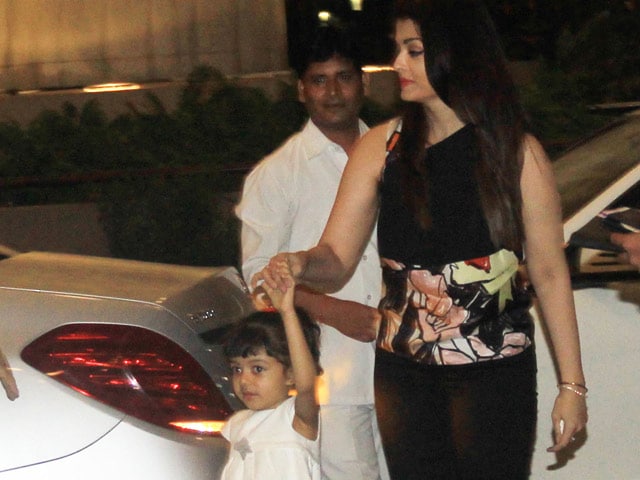 Actress Aishwarya Rai Bachchan, mother to three-year-old daughter Aaradhya, says that every moment she spends with her 'baby girl is special'.
The
Jazbaa
actress, who is at the Cannes Film Festival and took over L'Oreal Paris India 's Twitter handle for a day on Wednesday, was replying to a question posted during a Q&A with fans.
Can u share some memorable special moments with araadhya with us? #AskAishwarya Skype: akshita.vatsayan @LOrealParisIn

— Akshita Vatsayan (@Avatsayan) May 17, 2015
In a detailed video message posted by Ash, she spoke about Aaradhya and 'her first steps on the Cannes red carpet'.
"I am blessed and thankful to have her in my life. I have discovered love, like the very definition of it, experiencing every single second with her in my life," Aishwarya said.
Aaradhya has been accompanying her famous mother to Cannes ever since she was six months old and the 41-year-old actress juggles her red carpet duties with keeping her daughter entertained. "It's difficult to describe only one moment, but since we are here in Cannes - the first time I brought her here, she was six months and now she's three. I take her to these little play areas at Cannes. It's my 14th year at Cannes and before Aaradhya, I don't think I've even looked at that side of it, because there was everything else that I was doing. And since the last three years, I go to the carousel and all the little play areas, and I've discovered them and they are really sweet," said Aishwarya.
In a separate statement, Aishwarya mentioned that she loves to indulge in ice cream and croissants from a local vendor at Cannes and always makes a trip to grab a bite here. "I know there is a red carpet here but I enjoy my croissants and ice creams. I enjoy life and live in the moment. You should do it to!"
A slightly teary-eyed Ash said, "There are so many kids in town. You suddenly look at a different view of Cannes and enjoy it. There are some wonderful memories for us to cherish and it's really sweet on the part of the security here. We have managed to sneak and got to have Aaradhya take her first steps on the red carpet, right from the time she started to walk."
Aishwarya represents L'Oreal in Cannes and walked the red carpet this year in a green Elie Saab gown on May 17. On May 19, she unveiled the first look of her comeback film
Jazbaa
at Cannes, wearing claret Oscar de la Renta.
Minutes before her first appearance on the red carpet this year, Aishwarya was photographed with Aaradhya.
Sneak peek- Aishwarya plays with Aradhya minutes before the red carpet. Dressed in @ElieSaabWorld#AishwaryaAtCannespic.twitter.com/BmWupAx0Ty

— L'Oréal Paris India (@LOrealParisIn) May 17, 2015
The actress will walk the red carpet again on Wednesday night and attend the amfAR Gala on May 21 with her actor husband Abhishek Bachchan.
Watch: