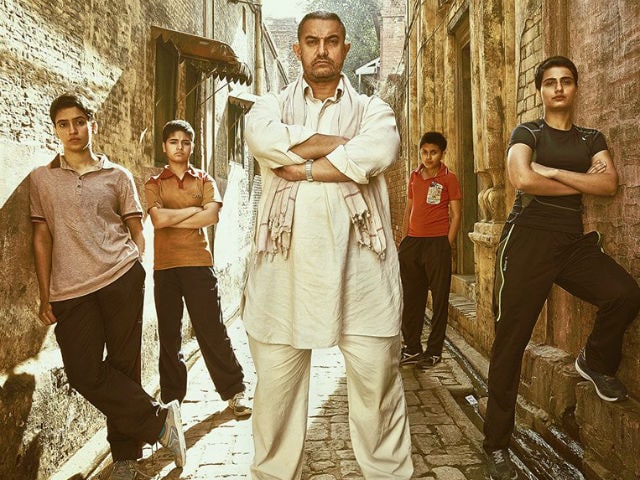 Highlights
Aamir stars as real life wrestler Mahavir Singh Phogat in Dangal
Aamir says that in QSQT he was operating in his comfort zone
Dangal's wrestling scenes required grueling shoot schedules
New Delhi:
Almost 30 years after his own breakout film, Aamir Khan says that as a first film,
Qayamat Se Qayamat Tak
was a breeze compared to Dangal, which marks the debut of actresses Sanya Malhotra and Fatima Sana Sheikh. Dangal, a sports biopic, stars Aamir as real life wrestler Mahavir Singh Phogat. Fatima and Sanya play Geeta and Babita, the daughters Mahavir Phogat raises to be wrestlers like him.
With Aamir, both Fatima and Sanya trained in wrestling
and the Haryanvi dialect spoken by the Phogats for the film - the demands made of these young actors far in out-size of those made of him while making
Qayamat Se Qayamat Tak
in 1988, Aamir says now.
Filming
Dangal's
wrestling scenes required grueling shoot schedules and resulted in several injuries. Fatima and Sana pushed on through the punishing shoots and training sessions despite a fractured rib and a busted hamstring respectively. On Thursday, Aamir Khan told news agency PTI, "
Dangal
is a very demanding film.
As your first film, it is very challenging
. They are not in their comfort zone. Both Sanya and Fatima are city girls. They had to play girls from a small village. they had to mentally and physically transport themselves to another world."
Now 51, Aamir says
QSQT
did not test his limits the way
Dangal
has for Sanya and Fatima. "In
Qayamat Se Qayamat Tak,
the demand from me was nothing. I had to play a guy from Delhi. I go on a holiday, romance a girl and fall in love. I was operating in my comfort zone," Aamir told PTI.
Outperforming Aamir Khan is a mission: impossible for most actors - he says that these young actresses have managed it. "When I came into the industry, I came with a certain amount of passion. When I see these girls, I see the same passion and thirst. So I can't say that I am surprised. But I am very happy about it. Passion in them in amazing and they are so joyful.
When you see the film you will see that they are 10 steps ahead of me
," Aamir said, reports PTI.
TV star Sakshi Tanwar, who is cast as Mahavir Phogat's wife Daya, also received praise from her co-star. "She gives her shot at one go. By good take I don't just mean technically good, she feels the moment. Apart from acting, she is such a wonderful human being. She is warm and always happy. It was a dream to work with her and I would love to work with her again," Aamir Khan said.
Dangal
, filmed mostly around Ludhiana in Punjab, is directed by Nitesh Tiwari and releases on December 23.
(With inputs from PTI)