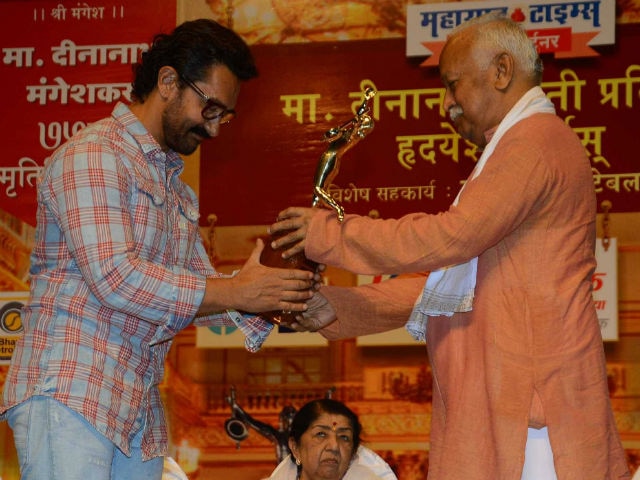 Highlights
Aamir Khan attended the Dinanath Mangeshkar Awards on Monday
Aamir was condemned by RSS for certain remarks about 'intolerance'
There are several tweets accusing the actor of being hypocritical
New Delhi:
Actor Aamir Khan trended on Tuesday for what so many of his colleagues do regularly without being commented on - attend an award show. The 51-year-old star was at the Dinanath Mangeshkar Awards in Mumbai on Monday and was honoured for his work in last year's film
Dangal
. Aamir received the trophy from Rashtriya Swayamsevak Sangh (RSS) chief Mohan Bhagwat. This is significant enough for the actor to be hotly discussed on social media for two reasons - firstly,
Aamir Khan famously doesn't attend award shows
; secondly, he was condemned by the RSS and others two years ago for certain remarks
he made about 'intolerance' in India
.
'Aamir attends first award show in 16 years,' proclaimed headlines on Tuesday morning. This is not entirely true - he was at the NDTV Indian of the Year Awards 2013 and presented Kangana Ranaut with the trophy for Actor of the Year. The headlines were counting from when Aamir Khan went to the Oscars in 2001 with
Lagaan
, which was nominated for Best Foreign Language Film. However you count, Aamir was pictured with Mr Bhagwat, actress Vyjayanthimala and singer Lata Mangeshkar, in whose father's honour the awards are presented.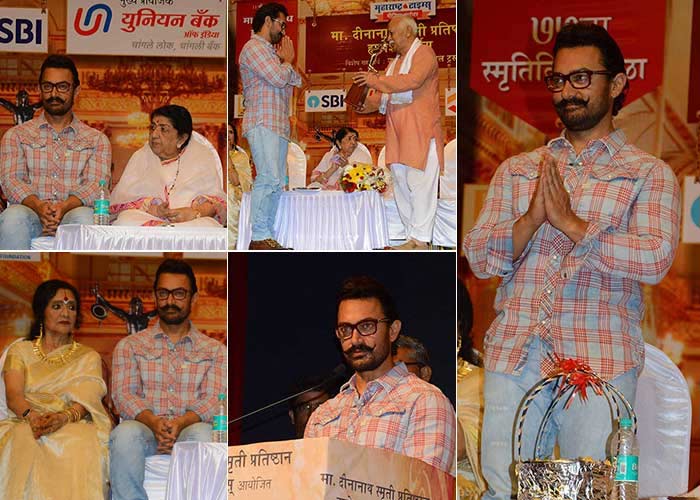 Twitter isn't quite sure how it feels about Aamir Khan breaking his 'no award shows' rule to be handed a prize by Mr Bhagwat. There are several tweets along the lines of 'irony died a 1000 deaths,' accusing the actor of being hypocritical. There are others who think it's a comeuppance for those who censured Aamir for his comments in 2015. Plenty of tweets are just happy he got an award for
Dangal
, having been ignored for the Best Actor prize at the National Awards.
Here's a sample of what Twitter said:
Both seem 2 b hypocrate. @aamir_khan intolerance, #PK n anti hindu stand known. He doesnt go award ceremony. Bt he came here. 1/2 pic.twitter.com/fNLTbwyA2b

— saumitra chatterjee (@mediakikhabar) April 25, 2017
Anti National @aamir_khan received award from Nationalist Bhagwat !

And Now #bhakts like ... pic.twitter.com/nWPnOPJqmo

— Sufy'n (@IynaSufyan) April 25, 2017
With Burnol for bhakts who were trending #boycottdangal@aamir_khanpic.twitter.com/E8rmkRuCcy

— Rupesh Malu (@Rupesh_Malu) April 25, 2017
"Aamir Khan" policy is I'ill come in award only if I get award means 2 get him on award show U hve 2 give him award evn if he is not dsrving

— NEHAL SHAH (@shahnehal309) April 25, 2017
Aamir Khan lost his #SuperHitHabit after attending an award show after 16 years.#AAMIRKHAN#LataMangeshkarpic.twitter.com/x13cL31pZG

— ikpsgill (@ikpsgill1) April 25, 2017
Maharashtra CM @Dev_Fadnavis has called an emergency cabinet meeting to pass a resolution congratulating Aamir Khan. https://t.co/evE9xHU95A

— Spaminder Bharti (@attomeybharti) April 25, 2017
#aamir_khan attends first award function in 16 years
Got the award for #Dangal

— AJ 2.0 (@aj_jagan) April 25, 2017
Congratulation @aamir_khan for #DinanathMangeshkarAward
i m very proud of you#aamirian@Aamir_KhanFC @Vishal_Dangal
*AamirKhan*

— Innocent Baccha (@kalyantikait) April 25, 2017
The backstory here is multi-layered. To begin with, Aamir Khan has not attended an award show ever since he lost the
Filmfare Best Actor prize to Shah Rukh Khan
for
Dilwale Dulhania Le Jayenge
in 1996. It is popularly believed that Aamir thought his own performance in
Rangeela
was superior (and many agree) and boycotted award shows in general. He did go to the Oscars but wasn't at the Filmfare Awards this year to collect the Best Actor trophy for
Dangal
(yes, he finally won).
Towards the end of 2015, Aamir Khan was widely criticized for revealing that he and
wife Kiran Rao
had discussed the possibility of moving countries because of prevailing attitudes towards minorities. He was attacked on social media and branded 'anti-national' - he was also dropped as the ambassador for the government's Incredible India campaign, ostensibly because his contract had expired.
This year, Aamir's tremendous performance as a middle-aged former wrestler in
Dangal
was overlooked by the National Awards jury which picked Akshay Kumar as Best Actor for
Rustom
- social media speculated that Aamir was still feeling the heat for having said what he did in 2015.
Aamir Khan will next be seen in
Thugs Of Hindostan
, co-starring Amitabh Bachchan.