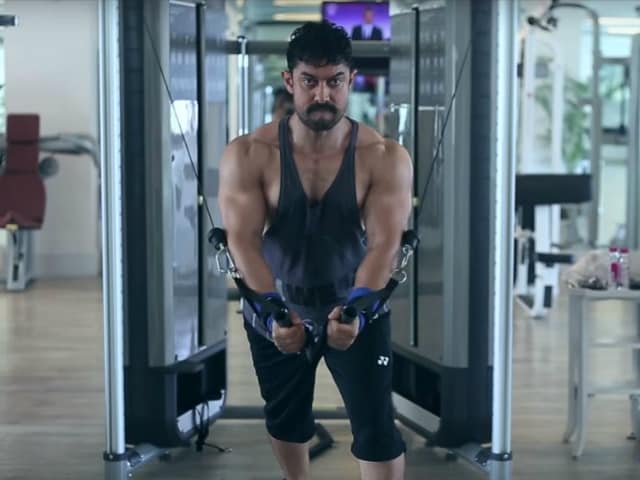 Highlights
Dangal will open in North American theaters first on December 21
Dangal is based on the story of ex-wrestler Mahavir Singh Phogat
'Dangal is a very human story of courage,' said Aamir Khan
Two years after he starred in
PK
, the most successful Bollywood film ever having grossed an estimated $100 million or almost Rs 700 crore worldwide, Aamir Khan returns in wrestling drama
Dangal
which will open in North American theaters first on December 21, two days ahead of its release in India and other countries.
Dangal
is based on the real-life story of ex-wrestler Mahavir Singh Phogat (played by Aamir) who was forced to give up his dream of competing in international competition due to financial constraints. But in a twist of fate, he fulfilled his ambition by training two of his four daughters into world-class wrestlers, while challenging the norms in Haryana's strict patriarchal society. Aamir Khan tells
The Hollywood Reporter
that
Dangal
is "a very human story of courage and believing in yourself
and your daughters
."
When he was first offered the script, co-written by the film's director Nitesh Tiwari,
Aamir Khan
said that in addition to being "inspiring and exhilarating, what took me by surprise is that there was a lot of humor in the story." But the film also touches upon the more serious issue of female empowerment given that India has long been battling issues of gender-bias and violence against women. Aamir points that despite the odds, things are changing and
that Dangal
"will have a very positive effect. When there is a particular mindset in Indian society which has been around for centuries, it won't change overnight but every attempt to look at things differently has its own impact and in that sense Dangal will have its own role to play in taking the issue [of female empowerment] forward."
At this year's Rio Olympics, India's sports women made history with double wins. Sakshi Malik won the country's first Olympic medal (a bronze) in women's wrestling, while badminton player P V Sindhu became the first Indian woman to win an Olympic silver medal. "The only two medals won by India at the Olympics this year were by women," adds Aamir. The actor, 51, is known to be a perfectionist in preparing for his roles such as in 2008's
Ghajini
for which he went through vigorous weight training to achieve a muscular look.
While preparing for Dangal
, Aamir Khan subjected
himself to a grueling regimen
which required him to first add 61 pounds to portray the older version of his character, forming a major part of the film, and then lose all that weight to play the younger version. "For the first time, I took it to the extreme," says Aamir. "Even when I was putting on weight, I continued to build my muscles. I went from 38 percent body fat to nine percent body fat." Much as
Dangal
is a tentpole release, the film comes at a time after producer Disney/UTV recently announced its exit from producing local films citing "challenges" with Bollywood's "economic model". The studio's remaining slate includes next year's release Jagga Jasoos, starring Ranbir Kapoor and Katrina Kaif. But Aamir is optimistic that Disney will return to local productions: "I don't see why they won't start producing again after some time and I look forward to that." Meanwhile, Aamir Khan will next begin shooting historical drama
Thugs of Hindostan
co-starring with Bollywood icon Amitabh Bachchan, produced by veteran banner Yash Raj Films. In addition, via his own production company, Aamir has co-produced Secret Superstar, the directorial debut of Advait Chauhan, set for release next August, in which the actor says he "has an important cameo."
At a time when Indian talent is foraying into Hollywood such as Priyanka Chopra (
Quantico
,
Baywatch
) and
Deepika Padukone
(
XXX: The Return of Xander Cage
), Aamir Khan says he welcomes the trend stating that "Indian talent has the potential to entertain the world." As for his own potential international foray, Aamir says that in the past he has "received many offers from Hollywood but I didn't find any of them exciting in terms of script and character. For me, to do any film, the material has to excite me and which part of the world it comes from, is not relevant. When I do find something that I like [from outside India], I will be happy to do it. At the moment, I am more excited doing Indian films because I have an emotional connect with my audience which has been built over the last 25-30 years." As well as its early opening in North America, Dangal will get the widest release ever for an Indian film in the U.S. and Canada, opening across 350 screens.The only other Indian films to break 300 theaters in North America have been last year's epic
Bajirao Mastani
with 304 screens and more recently, romantic drama
Ae Dil Hai Mushkil
at 302.