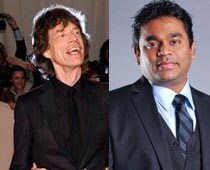 Highlights
Academy award winning Indian musician A R Rahman has joined forces with rock legend Mick Jagger, 'Eurythmics star' Dave Stewart, Damian Marley and Joss Stone to form a supergroup.
The double Oscar winning 'Jai Ho' hitmaker has been secretly recording with the 'Rolling Stones' frontman, Bob
Marley's youngest son and British soul singer Stone, reported New York Post online.
"They just finished a record and their first video and are talking to major labels about a deal. The name for the band at the moment is 'Super Heavy'," said a source close to the quintet.
"Each member has a very distinct and different style, but it works. Mick has been recording with Dave for a while, and both worked with Joss in the past," added the source.
Rahman, who also won two Grammies for his music in the Mumbai based potboiler 'Slumdog Millionaire', had also collaborated with American music icon Michael Bolton for the
latter's new album releasing this June.
'Gems-the duet collection' by Bolton features a melody by Rahman along with works of global pop superstar, Seal, Australian singing sensation, Delta Goodrem and late vocalist
Eva Cassidy.
Rahman's earlier international collaborations include The Pussycat Dolls, Akon and a star-studed second version of
Michael Jackson's 'We Are the World.
Irish U2 and Sir Paul McCartney have been named in the top 20 of Forbes' new list of the 'Most Powerful Celebrities In The World'
New York:
Academy award winning Indian musician A R Rahman has joined forces with rock legend Mick Jagger, 'Eurythmics star' Dave Stewart, Damian Marley and Joss Stone to form a supergroup.
The double Oscar winning 'Jai Ho' hitmaker has been secretly recording with the 'Rolling Stones' frontman, Bob
Marley's youngest son and British soul singer Stone, reported New York Post online.
"They just finished a record and their first video and are talking to major labels about a deal. The name for the band at the moment is 'Super Heavy'," said a source close to the quintet.
"Each member has a very distinct and different style, but it works. Mick has been recording with Dave for a while, and both worked with Joss in the past," added the source.
Rahman, who also won two Grammies for his music in the Mumbai based potboiler 'Slumdog Millionaire', had also collaborated with American music icon Michael Bolton for the
latter's new album releasing this June.
'Gems-the duet collection' by Bolton features a melody by Rahman along with works of global pop superstar, Seal, Australian singing sensation, Delta Goodrem and late vocalist
Eva Cassidy.
Rahman's earlier international collaborations include The Pussycat Dolls, Akon and a star-studed second version of Michael Jackson's 'We Are the World.