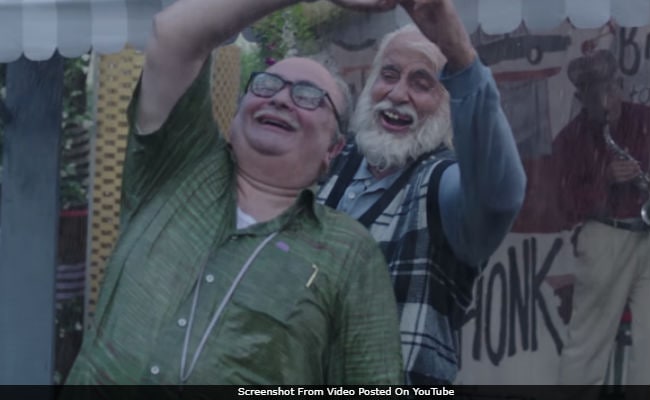 Highlights
102 Not Out is directed by Umesh Shukla
Amitabh Bachchan plays a 102-year-old father
Rishi Kapoor plays the son
New Delhi:
Amitabh Bachchan and Rishi Kapoor's
102 Not Out
releases tomorrow and promises to be a laugh riot and an emotional potboiler. Amitabh Bachchan plays a 102-year-old father, who wants to break the record of the oldest man on Earth. Rishi Kapoor plays the 75-year-old son,
who acts several years older
in his ways and takes life very, very seriously. One-time frequent collaborators, Rishi Kapoor and Amitabh Bachchan will co-star in a film after almost three decades. Directed by Umesh Shukla, the film has garnered a lot of interest because of its unique story and the ensemble cast.
Rishi Kapoor's son Ranbir and the junior Bachchan - Abhishek recently
jumped to the promotional duties
of the film, posting pout selfies on Instagram just like their respective fathers. This is what Abhishek Bachchan Instagrammed: "Yo! What they (the fathers) can do, we (the sons) try to do too."
The film is going to be quite an entertainer because in the trailer, Big B describes his son (Rishi Kapoor) as the "
Thakela pakela boring insaan
," who smiles rarely and starts the day with a session of Anulom Vilom. The father has a take on that as well - "
Itni hawa andar kheech ta hai nah yeh, kabhi kabhi mujhe tension ho jaata hai ki mere liye kuchh bachega ki nahi
."
In an interview with IANS recently, Rishi Kapoor shared his experience of working with Big B after a gap of almost three decades and said: "We worked in this film after 27 years but from the time we went on the set, we started rehearsing. We did not feel the gap between these years. I feel proud to say that I have been working with him for the last 44 years. Our first film was Kabhi Kabhie (1976) and the last time we worked together was in Ajooba (1991)."
How excited are you about
102 Not Out
? We are very!